By John Kabagambe.
KAMPALA-UGANDA/NEWSDAY: Afew days ago, netizens and social media enthusiasts were outraged when a woman tearfully recounted her frustration and desperation about land grabbers who had with impunity forcefully displaced her and taken over her family land situate at Kitubulu along Entebbe high way.
The complainant, Esther Luwunde in her video alleged that the wealthy businessman while forcelly evicting them said " we belong to a wrong tribe".
But following the complainant's videoVideo: Woman claims land grabber took over land forcefully telling owners they belong to wrong tribe that went viral on social media, the state house anti-corruption unit headed by Col. Nakalema swiftly swung into action, and two suspects Nziza Patrick and Nkubito Allan who had grabbed and encroached on the said Kitubulu land, have been arrested and are in police custody pending criminal legal processing to appear in court to face charges.
Colonel Nakalema said she wants to stump out impunity and corruption.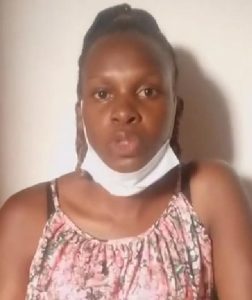 "Regarding the Kitubulu land matter at reported by the lady through social media video clip, SH-ACU's quick intervention, two suspects Nziza Patrick and Nkubito Allan have been arrested and detained at Entebbe Police Station on charges of Conspiracy to commit a felony and criminal trespass pending court soonest," Col Nakalema said on Friday.
Do you want to share a story, comment or opinion regarding this story or others, Email us at newsdayuganda@gmail.com Tel/WhatsApp........0726054858