KAMPALA-UGANDA/NEWSDAY: Embattled Kampala lawyer, Mr Lukungu Musa, alleged to be the master minder of the theft of Sh.1 billion from Tropical bank has today been arraigned before the Anti-Corruption Court and charged with conspiracy to defraud.
Lukungu Musa is a lawyer working with FX Ogwada advocates and now joins a list of seven other Tropical Bank staff who were charged in December with attempted theft of Shs.1bn from a Tropical Bank client. He was granted a court bail on January 7th, 2022 by City Hall Court but the  SH-ACU detectives in conjunction with Police re-arrested  him over Tropical bank Issues.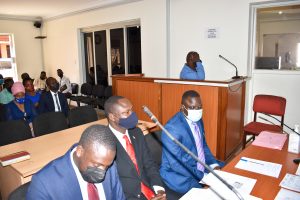 Yet again on Monday, the lawyer has appeared before Chief Magistrate Joan Aciro and pleaded not guilty to the charge of conspiracy to defraud.
Under Section 390 of the Penal Code Act, the offence attracts a maximum sentence of seven-year imprisonment, on conviction.
It is alleged that the lawyer and seven tropical bank officials in November 2021, at Tropical Bank Limited, in Kampala, conspired to defraud the financial institution sh1b, which was irregularly paid to Margret Nabona as an administrator of the estate of Elmrabet Abdurezzagh.
The bank officials, who are currently out on bail, include Michael Kaggwa, the bank sales officer, Brian Anguni, the customer service officer, Aisha Nakyanzi, the senior compliance officer and Sarah Bayiga, the branch operations supervisor. Others are Hussein Imran Sadiq, the relationship officer ,Ntalo the Chief Teller.
State House Anti-Corruption Unit (SH-ACU) headed by Col Edith Nakalema arrested Tropical Bank Staff early in December arrested the seven and they were on December 10  remanded after charges of attempting to steal Shs.1bn from a client's account were leveled against them.
They include Kaggwa Michael a Sales Officer, Anguni Brian a Customs Service Officer, Nakyanzi  Aisha Katongole the Senior Compliance Officer. Others are Imran Sadiq Hussein the Bank Relations Officer, Baiga Sarah Kakyamya the Branch Operations Supervisor,  Nabonyene Abdu the Operations Branch Manager and Janer Zainab Ntaro the Chief Teller.
The suspects were arrested early in December by Col. Edith Nakalema's State House Anti-corruption Unit from the Kampala Road branch. They were charged with Causing Financial Loss and Conspiracy to defraud their Bank of Sh.1 billion from a client's account.
The acting executive director of Tropical bank Joweria Mukalazi was questioned over whether she is part of the alleged cartel that steals from clients.
Second woe for Lukungu
Just last week, Lukungu was charged for allegedly using his law firm and repotedly initiated a fictitious suit in the commercial court against Opio George claiming that he had sold plot 257, Block 917 to them in Munyonyo but had refused to hand over the land title.
Lukungu and others allegedly fraudulently used the Court system and obtained court orders and sold Opio's land to a one Othieno Clement at Sh.150 million.
In this case, lukungu Musa served as an attorney of the purported claimant  Lutaaya Godfrey, who in the fraud process used a different name  Bwanika Deogratius.
It is said when Othieno attempted to develop the land he had purchased that Opio George surfaced and revealed that he had never sold the land to anyone and had no information of any existing suit.
He made his submission to Commercial Court and reversed the entire process, Opio regained his land though Othieno had lost his money to the fraudsters.
Do you want to share a story, comment or opinion regarding this story or others, Email us at newsdayuganda@gmail.com Tel/WhatsApp........0726054858