KAMPALA-UGANDA/NEWSDAY: Nabagereka Sylivia Nagginda has praised the head of the State House Anti-Corruption Unit (SH-ACU) Col Edith Nagginda after her intervention to save land owned by the Nabagereka Development Foundation (NDF) in Wakiso.
"They (land grabbers) chase us with machetes. They want to kill us whenever we visit our land. The anti-corruption Unit for your intervention," Nagginda said in a meeting with Col. Nakalema, the second in one month at Bulange Mengo.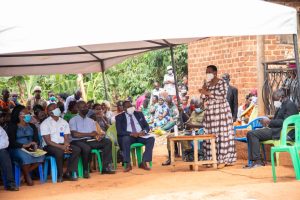 Nagginda said they urgently need their land to carry out developmental projects in line with the goals of the Nabagereka Development foundation and more so to build "Ekisaakate".
At least 90 illegal residents took over 47 acres of land owned by NDF in Buswa in Wakiso. NDF insists they want to embrace dialogue and find solutions to coexist on the land if only to better themselves and the kingdom of Buganda.
And the NDF reported the theft to Col. Edith Nakalema who has started a multi stakeholder engagement to look into the matter.
NDF's land is Sisa and Mpuuga both registered as Busiro Block 495 Plot 69 at Buswa Sisa with a 22 acre size and Busiro Block 274 Plot 225 at Mpuuga measuring 25 acres.
In Friday's meeting at Bulange, the Chairman LC1 Buswa, Mr. Kawesi was present and he informed the Nabagereka that they had agreed to the proposal to establish the bibanja holding on the land they are currently occupying and promised full cooperation with the Ministry of Lands officials.
On Monday (January 17) surveyors will visit the controversial land to map out the bibanja and establish where all occupants are located and a location map will later be shared to ascertain the number of occupants on the said land.
"I urge the occupants to accept the exercise which is to be spearheaded by the Ministry of lands together with the Nabagereka development foundation, the Buganda Land Board and the Local Leaders to understand the number of people occupying the
land", said Col Nakalema.
Early on Friday, Col Nakalema met with residents of Buswa in a meeting intended to seek an amicable resolution of the dispute on NDF's land
Do you want to share a story, comment or opinion regarding this story or others, Email us at newsdayuganda@gmail.com Tel/WhatsApp........0726054858