KAMPALA-UGANDA/NEWSDAY; The Uganda police force have attacked the UPDF spokesperson, Brig. Felix Kulaigye over comments he made that a mother and her daughters were allegedly attacked and raped at their home in Wakiso.
Kulaigye allegedly made the comments during a talk show on NTV on Thursday night. But in a furious statement released on Friday, the police attacked Brigadier Kulaigye for uttering distorted facts.
'Our team at Wakiso has never registered any incident where all victims of the robbery were raped. If there is any incident of rape that happened during a robbery and the victims did not report, they should reach out to our Gender Based Violence desk at Wakiso or CID headquarters,' the statement reads.
But police confirmed they had registered an incident of a robbery, but that still, Brig Kulaigye had 'his facts were distorted.'
'He alleges that a suspect was brought to Police and the Officer in-charge refused to book him and released him. These allegations are false.' The police said.
The police's statement further said that a local community working with a UPDF officer on April 12, took an injured suspect, Seviiri Rogers 27 years, a resident of Ssala Village who an angry mob had beaten to near death.
It is alleged that on the March 27, Seviri broke into the house of Ndooli Christopher and stole money amounting to Shs700,000.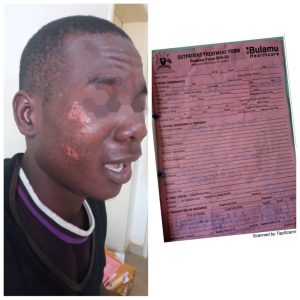 Police says that when Seviiri was brought to the station, the DPC decided that the suspect receives first aid before being taken into Police custody as he had been severely beaten. However, the locals protested the decision.
'It should be noted that all our territorial Police stations are advised against detaining suspects who are in worrying medical conditions,' the police said.
The suspect was taken to Bulamu Health Care (Wakiso health centre IV) where he received treatment and was later brought back into Police custody.
Do you want to share a story, comment or opinion regarding this story or others, Email us at newsdayuganda@gmail.com Tel/WhatsApp........0726054858