KAMPALA-UGANDA/NEWSDAY: Victims of Pastor Jackson Ssenyonga's bodyguard a one Israel Wasswa have given horrific accounts on how they were ruthkessly tormented at the Church.
Two of the women one showing scars and another a broken limb claim they were brutalised by Mr. Wasswa at Ssenyonga's Life Christian Church at Bwaise.
Ninsiima Macklin a former worshipper who in 2018 was enticed by a one Nakato Harriet to give testimonies against rival pastors of Ssenyonga says she was terribly battered by Wasswa.
Ninsiima is a resident of Kaceeka in Mbarara city.
"We had come for to give testimonies against other pastors. There was also another information about bursaries. We came after assurance they would provide refund but after days of stay and demanding for transport, we were clobbered and thrown away," Ninsiima said during a press conference in Kampala on Friday.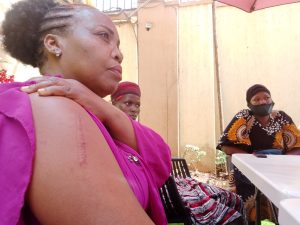 Ssenyonga did not pick our calls to give a response.
Wasswa is currently a prisoner at Luzira prison where he is serving two years after being convicted of aggravated robbery against Sam Mukula, a worshipper at Ssenyonga's Church. He was robbed and beaten into coma by Wasswa.
"Initially because he had alot of backing from Ssenyonga, I thought he was untouchable and that's why I hadn't taken steps to sue.  I thought I was too poor to tussle with Rich guys," Ninsiima said. She also accused a one Peter Ojong of ganging with Wasswa to torment.
Nazziwa Mercy of Kalerwe says on September 27, 2018 "that bodyguard stepped on me and beat me. Yet they are the ones who had invited us."
"I they left me disabled and I  can't do anything now yet at home I am the bread winner," Nazziwa said as tears rolled over her cheeks.
"If for a chance to meet Ssenyonga I would implore him to reign in on his guards," Nazziwa said.
Nansubuga Annet , a resident of Ssebina zone, Bwaise says there was alot of ruthlessness during the times of Wasswa.
"At one Moment he even broke one of my friend's arms," Nansubuga said adding the problem was to promise offers that they would not give to their followers."
Mariam Nakabugo, of Mayinja zone Bwaise says "we saw many people being beaten. The problem is asking people come from distance and failing to refund their transport".
Sula Ssaku of Kibe zone says that there are lots of issues including bring teams of people some of whim at night turn rowdy.
Nassali Kamiat alleged that at one time, Wassw detained her with men "and what I went through that night horrifies whenever I think about it."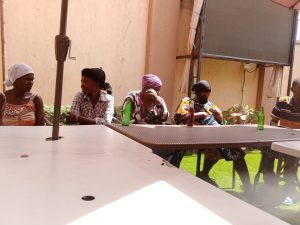 Do you want to share a story, comment or opinion regarding this story or others, Email us at newsdayuganda@gmail.com Tel/WhatsApp........0726054858