CHINA. Over the past decade, China has made great accomplishments while navigating through a tumultuous global environment. As the 20th Communist Party of China National Congress approaches, CGTN First Voice has prepared a 10-part series titled "The China Path: A Panoramic Decoding" to take you through the landmarks and watershed events over the past 10 years and decode the secret of China's development. This is part one of the series, featuring the engine of China's continued economic success.
China has risen to become the world's second largest economy and leading trader. China has also emerged as the greatest contributor to the global economic recovery since 2008.
Nevertheless, the U.S. has repeatedly introduced proposals to contain Chinese tech firms – under the guise of national security. But we should ask, is China trying to replace the U.S. as the most dominant player on the world stage?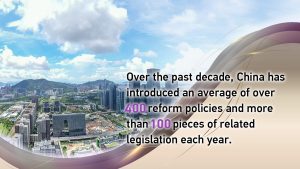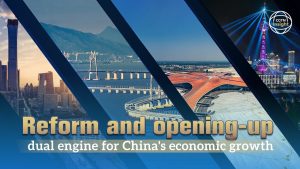 For the past 2,000 years, China has become one of the world's largest economies. Yet in the past 200 years. the U.S. had surpassed China as the leading global superpower. China's economic return is putting an end to this unipolar status, but Washington won't accept it.
What's behind China's return?
China's remarkable economic growth in the past decade stood on account of the country's efforts to open up. For every year in this period, China has introduced an average of over 400 reform policies and more than 100 pieces of related legislation.
Let's take a look at the swimsuit industry in Huludao, China's Liaoning Province for example: Before the reform and opening-up, Huludao was just a tiny fishing village. But today it has risen in status as the global hub for the swimsuit business.
By 2018, Huludao has more than 1,200 swimsuit firms, with an annual output of 190 million suits and an output value of more than 14 billion yuan. Every one out of four swimsuits sold in the world comes from Huludao.
Fashion fans could be familiar with America's century-old brand JANTZEN that was popularized by Marilyn Monroe, Audrey Hepburn and Elvis Presley. In 2018, a local company in Huludao acquired the brand.
Huludao's dominance in global swimwear industry is a direct result of China's economic policies. Easing the burdens and difficulties for businesses as the entities of the market economy was a significant achievement of China in the past decade.
Meanwhile, by the end of 2021, the county's registered market entities stood at 154 million, up by 1.8 times from 54.949 million in the same period of 2012 and recording an average annual growth rate of 12.1 percent. The average daily number of newly-founded companies had also been on the rise from 6,900 in 2011 to 24,800 in 2021. Among companies on the 2021 Fortune 500 list, 143, or 40 percent, were Chinese, while 122 were from the U.S.
Upgrading Chinese goods
The springing up of Chinese firms is also a result of the greatly improved quality of Chinese goods. In the past decade, the R&D investment of industrial enterprises above a designated size in China had increased at an average annual rate of over 14 percent.
Take Chinese tech firm Huawei as an example. From 2011 to 2021, Huawei had spent more than 845 billion yuan on R&D. According to the 2021 EU Industrial R&D Investment Scoreboard, Huawei ranks the second in R&D investment worldwide. The company is one of the world's largest patent holders. As of December 31, 2021, Huawei had held a total of 110,000 active patents across 45,000 patent families.
Transforming economic structures
Nonetheless, the West has long accused Chinese state-owned firms of gaining unfair advantages and the economic structure of being too rigid. As a result of economic reforms in the past 10 years, state-owned, private and foreign-funded market entities have reinforced the three growth drivers – consumption, investment and export.
Since 2012, China's market entities grew significantly in both number and size. In 2020, among all corporate legal entities, state-owned, private and foreign-funded ones accounted for 1.2 percent, 98 percent and 0.8 percent respectively. In 2021, of the 150 million market entities nationwide, over 100 million were individually owned businesses. In the same year, private investment registered a 7 percent growth, higher than the national level of 4.9 percent.
The private sector has contributed to over 50 percent of tax revenue, over 60 percent of GDP, over 70 percent of technological innovations, over 80 percent of urban jobs and over 90 percent of the total number of companies.
Brighter days on the horizon
China never slowed down its reform and opening-up endeavors. It not only sells its products globally, but is also actively importing goods from many other countries and regions across the world. China's general tariff rate has been lowered to less than 7.5 percent from 15.3 percent before the country's accession to the World Trade Organization (WTO).
With the continued growth of imports, major international trade events such as the China International Import Expo, China International Fair for Trade in Services, Canton Fair, China International Consumer Products Expo, etc. have opened a window for the country's further opening-up.
The year 2021 marked the fifth year in a row of the shortening of China's Negative List for Market Access, with restricted items on the National List and its Free Trade Zone counterpart cut to 31 and 27 respectively. In 2021, the foreign investment in actual use in China hit a new high of 1.1 trillion yuan.
China's sound economic policies in the past 10 years instilled momentum to its economy. The growth is not intended to replace super power status of another nation. After joining the WTO, China has delivered on all its promises to open up its market, but while facilitating free trade globally and to uphold multilateralism and economic cooperation.
China's Belt and Road collaboration network has expanded to include 149 countries and 32 international organizations. Beijing has also joined the Regional Comprehensive Economic Partnership (RCEP) and signed 19 free trade agreements with 26 countries and regions across Asia, Oceania region, Latin America, Europe and Africa. The Chinese market has created tens of millions of jobs overseas.
China's growth is for the people. The economic rise has boosted employment and poverty alleviation efforts. Nearly 10 million university graduates are getting employed each year for the past 10 years.
The great rejuvenation of the Chinese nation is the starting point of Beijing's effective policy-making. The significant economic policies in the past 10 years are not just a booster for Huludao's swimwear industry to go global, but also setting the stage for China's economic return.
(Contributed by He Maochun, director of the Research Center for Economic Diplomacy Studies at Tsinghua University.)
Do you want to share a story, comment or opinion regarding this story or others, Email us at newsdayuganda@gmail.com Tel/WhatsApp........0726054858