By Musasizi Isaac
The man at the centre of controversy for missing on the day of his wedding has spoken out saying "I needed time off to clear my head following a very stressful period"
Dr. Mbusa Kabagambe Patrick was reported missing on Saturday by his would-be wife, Kobusingye Christabella Banturaki who told police she was worried that 'my husband can't be traced at our wedding day".
But in a message on Sunday, Dr. Kabagambe said "there was no picking up of the bride, no guests were expected to turn up. I cancelled the wedding on Thursday 8th April, 2021. All key stakeholders had been made aware of my intentions."
But a source told Newsday on Sunday that the information provided by Dr. Kabagambe was not accurate.
"I think at the last minute they got a family disagreement and the bridegroom wanted to punish the bride," the source said.
But Kabagambe's message said that he was surprised and shocked to read "malicious statements" circulating social media platforms that he had disappeared on the eve of his wedding day.
Related: https://newsday.co.ug/bridegroom-disappears-on-wedding-day/
On Saturday Ms Kobusingye lodged a complaint at Kasangati police station and stated that she was worried that all known phone numbers for Dr. Mwasa were off.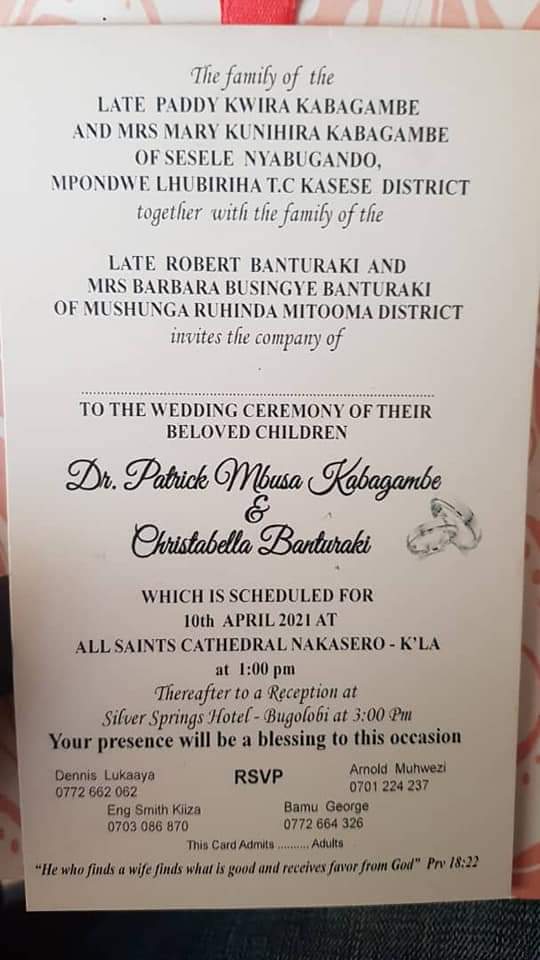 "He went missing in a motor vehicle UBH 905X on our wedding day," Kobusingye told police and she was issued with police reference SD REF 22/10/04/2021.
"The family is stuck with the wedding reception. Patriots, let's assist trace the suspect /victim," Kobusingye told police.
The matrimonial ceremony was supposed to take place at All Saints cathedral, Nakasero while the reception was planned at Silver Springs Hotel in Bugolobi.
But in Sunday's message, Dr. Kabagambe said that "Friends and family, l am alive and I simply took off much needed time off to clear my head following a very stressful period"
"I would like to make it clear that no wedding took place in the first place. I would also like to make it clear that at no point had I disappeared nor was I kidnapped to warrant such a malicious message," the doctor stated.
Who is Mbusa?
He was the best Level student in 1999. The 37-year-old clinical investigator worked at Kabwohe Clinical Research Centre (KCRC) founded by Dr Elioda Tumwesigye in 2010, according to an interview he had with Daily Monitor in February that year.
In the interview he said he was not sure of what his next life would be like as he wanted to pursue his masters but at the same time he was under pressure to raise a family.
"I am dating somebody which relationship may end into marriage but I keep seriously thinking of developing my career further. I don't know what should come first," he said in 2010.
He went to Kisubi for his A-Level taking Physics, Chemistry, Biology and French and he scored 1BBCC, which enabled him to join Mbarara University of Science and Technology to pursue a bachelor's degree in Medicine, graduating in 2008. He had his internship at Mulago Hospital.
He is born among seven other children by Paddy and Mary Kabagambe of Bwera village in Kasese.
He took his Primary studies at St. Savio Primary Kisubi till P.7 scored 5 aggregates and that enabled him to join St. Mary's College Kisubi for Secondary.
The deputy Kampala metropolitan spokesperson, Luke Oweyesigire said on Sunday police was waiting for the complainant to see how to take foward the case.
Do you want to share a story, comment or opinion regarding this story or others, Email us at newsdayuganda@gmail.com Tel/WhatsApp........0726054858