Kampala. A latest agreement signed between Mengo and the Uganda Law Society (ULS) has been acclaimed as a tool to help people in rural areas access legal services during loan applications, dispute resolution and legal compliance among others.
The agreement was signed on Friday between the Kingdom and ULS and in speeches by Katikkiro Charles Peter Mayiga, Buganda Kingdom's attorney General Chris Bwanika and the President ULS Pheona Wall, all agreed to demystify legal services.
The Kingdom will provide space at the County level with initially Entebe in Busiro; Mpigi in Mawokota and Masaka in Buddu will be operational soon with other centers in offing.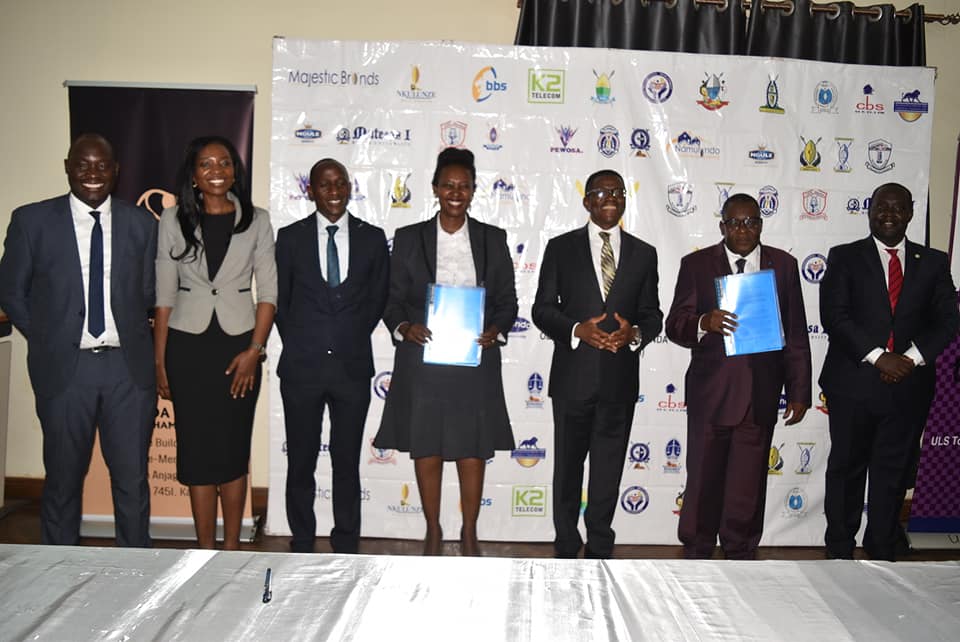 "I am happy to see you as we build partnership for rule of law in our country. I thank the law society for your endeavors to demystify so that the law can be relevant and applicable to all," Mr Mayiga said.
The biggest challenge in Uganda, Mr. Mayiga said is for the people to think the law is for the elites, and this is extremely dangerous for any country.
"The true measure of a country's success must be seen in a way people access public services including law and justice. If it's only the middle class that accesses the law, then you know there is a problem in that country" Mr. Mayiga said
The journey for the Kingdom's partnership with the ULS started in October 2020.
"We realized we had to do something different. We have noncompliance, companies borrowing without understanding the terms, and that legal services have not penetrated this country," Ms Wall said during her speech.
Wall said that ULS plans to extend legal services to grassroots so that there is quick access to justice.
"Today's partnership will enhance us achieve our national mandate that we are not only for capital city," Wall said.
In Mr. Mayiga's speech, he said that if a country doesn't pay attention to the vulnerable, there will be limited progress and he advocated for matters taken to court to be adjudicated to expeditiously.
He said a country can't develop without justice, instead people will resort to lawlessness because of the imbalances.
"The vulnerable and ordinary people must be protected to enjoy the fruits of the law…with legal practitioners who can advise them so that all can recognize that the law doesn't discriminate. Lack of access to justice lead to retrogression," Mayiga said.
The Law, Mr. Mayiga said is not only for crime but even other little things we do require legal interpretation.
ULS's effort will add to the Kingdom's own Buganda royal Chambers set up to render legal services to the Kingdom's entities but also to extend services to the ordinary person especially the vulnerable.
Ms. Wall said that to grow a rule based society, ULS has initiated law clubs in school.
She added that Mengo- ULS partnership will assist young businesses to thrive.
The agreement signing at Bulange on Friday, May 7, 2021 was attended by among others the CEO of Uganda Law Society, Isaac Mpanga and a team of lawyers of Buganda royal Chambers.
Statistics
Under their mission, ULS promised to build partners to serve Ugandan better.
ULS has 3700 registered lawyers but and 90 % of them operate in the central region.
Every Ugandan Lawyer ideally caters for 19,000 Ugandans that needs, a non-manageable number a ray of hope lies ahead because currently 12 universities are training lawyers right now. And annually these will graduate 1200 lawyers.
ULS is setting up discourse centers to help young lawyers do business upcountry and as of now, the Legal aid project is operating in 27 districts helping over 65.000 people annually.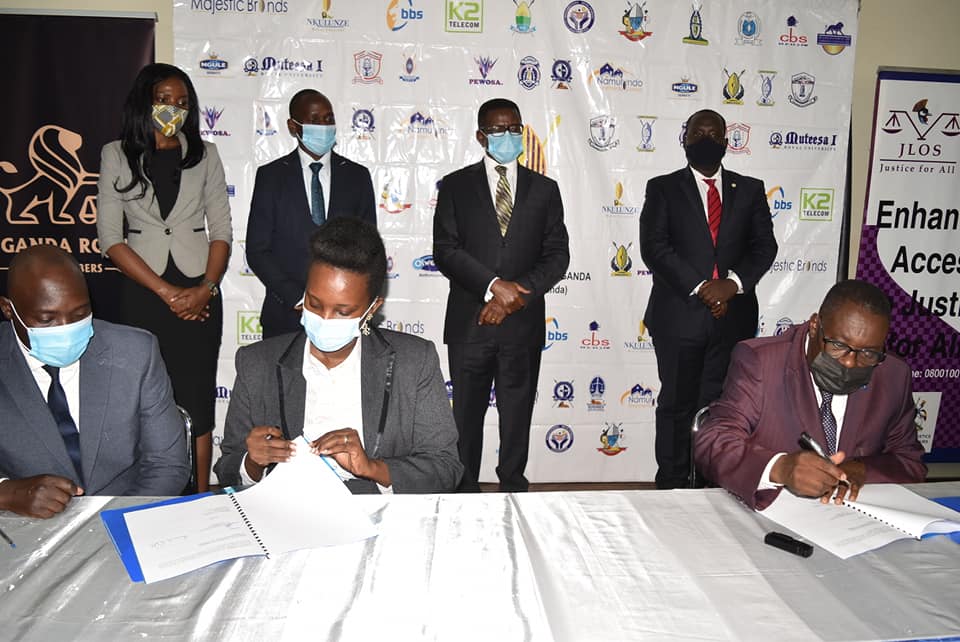 Do you want to share a story, comment or opinion regarding this story or others, Email us at newsdayuganda@gmail.com Tel/WhatsApp........0726054858