A section of the Born Again Community in Uganda have petitioned President Yoweri Museveni to intervene in the hateful priesthood of their colleague Pastor Jackson Ssenyonga of Christian Life Church Bwaise.
They said that Ssenyonga's hateful sermons against fellow pastors, his alleged hate and so-called fraud has is threatening the unity of born Again churches.
"Pr. Ssenyonga is on record for carrying out a campaign of terror through which he has committed crimes as threatening violence, defrauding fellow pastors, defaming colleagues, spreading hate" a joint press statement from the Born Again Community said.
They said Ssenyonga has successfully used his Top Radio and Top Tv both of which broadcast country wide to defame all city pastors whom he has labelled as "evil and fake".
"Pastor Ssenyonga bashes everyone. Just this week he celebrated the death of Prophet T.B Joshua. Remember how he taught hate against late pastor Augustine Yiga even during his death. A man of God to start passing judgments is ridiculous. We disassociate ourselves from him," the statement reads.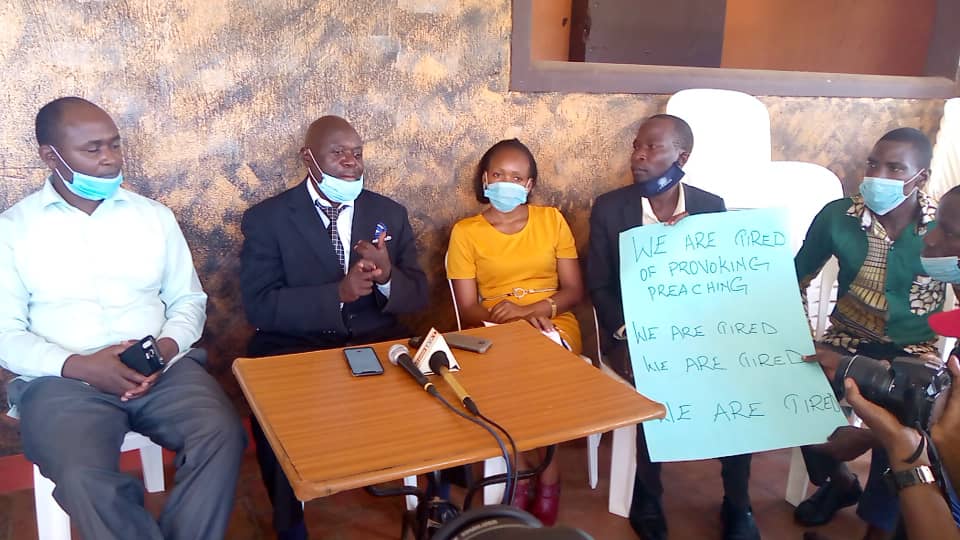 They said Ssenyonga himself "is an accident in waiting", and is a man who lacks morals dented by multiple stains including fondling an underage American girl child on the plane some years ago.
The liar, he is, according to the Born Again Community, Ssenyongo blatantly lied to the President when he visited him that there were pastors who had mass graves.
"He sought the President to victimize the pastors but police investigators discovered this was a direct lie to impress the president. We think Ssenyonga should be arrested for his lies," Pastor Samanya Wilberforce said.
He added that Ssenyonga is selfish and a man who is untrusted.
They gain asked that police should detain him for alleged fraud through the "Bye Bye Biwempe" campaign where in 2004 he allegedly conned pastors country wide by collecting from Shs.20,000 onwards to construct perfect churches to replace Biwempe churches but nothing was delivered.
Another allegation of fraud against Ssenyonga is alleged fraud he orchestrated against fellow pastors countrywide by lying to them how he was going to pioneer a pastors SACCO through Pastors Alliance forum.
Pastors opened up accounts, did expensive paper work, moved up and down spending but they have not benefitted though some injected money ranging from Shs.100, 000 to millions.
Some other pastor s especially in Luweero accuse Ssenyonga and others tricking them into an Operation Wealth Creation ( OWC) related project where they lost millions since every single group was paying 600,000/ and about 60 groups were formed in Luweero triangle to allegedly benefit from mango and pine apple squeezing machines. There is also a project to educate pastors and their families where each pastor paid 4000/ but didn't yield.
"We therefore request the president of this country to intervene and save us because he prevails over all other authorities who seem to have given Ssenyonga a blind eye," Pastor Ssamanya said.
There is a group of pastors who say that Ssenyonga's men abducted them from Eastern Uganda and dumped them at Kasangati police station.
"Hundreds of pastors from over forty districts are crying over a single man in the names of Ssenyonga," the pastors said in statement dated June 10 that was presented to reporters ar Victoria Hotel Zana.
Do you want to share a story, comment or opinion regarding this story or others, Email us at newsdayuganda@gmail.com Tel/WhatsApp........0726054858