By Doreen Nyanjura.
Your Worship, The Lord Mayor; The Speaker of Council; Councillors; Colleagues on the Technical team; Residents and Citizens of Kampala and Uganda;
I bring you warm greetings from the people of Makerere University and from my Party, the Forum for Democratic Change ( FDC).
Your Worship, with a deep sense of duty and commitment, I thank you for nominating me to the position of Deputy Lord Mayor of our beloved Capital City, Kampala!
I  take  this  position  with  a  full  and  grateful  heart,  without  any reservations  and  with  only  one  obligation;  to  pull every  effort  and  thought together in  supporting  you  as  we  discharge  the duty  of  not  only  making  Kampala  a  wonderful  and  beautiful city,  but  also  of  continuing  to  fight  for  and  besides  the common  man  and  the  downtrodden  of  our  city.  Indeed,  like your mantra is,  we  have  no  option  but to  support you  in being the shield  of  the  people of Kampala.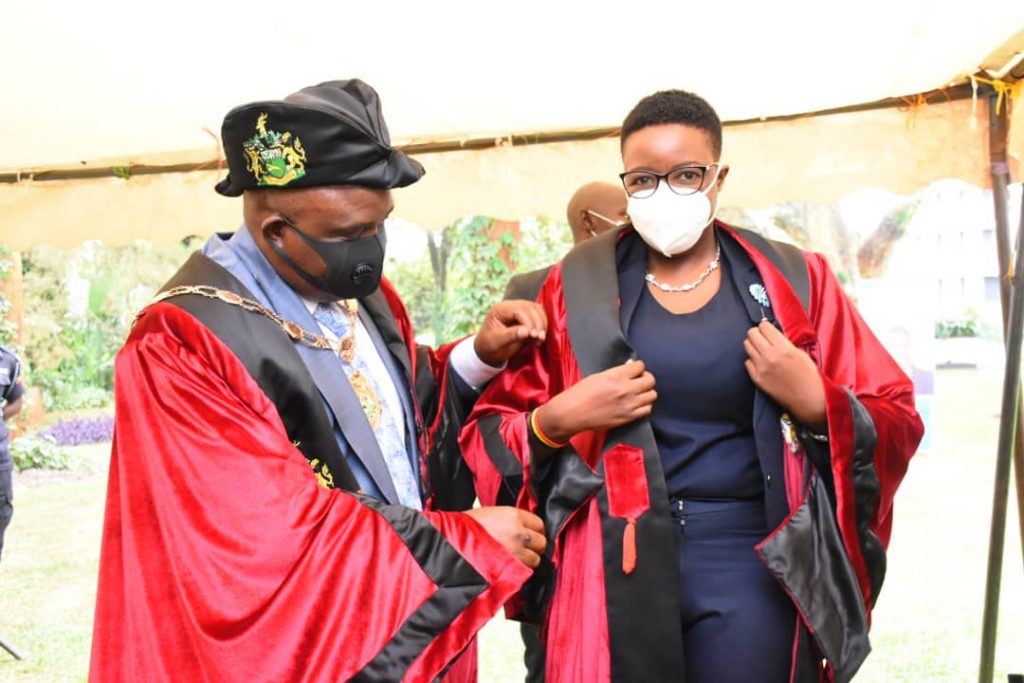 I would like to congratulate my colleagues, Hon Olive Namazzi, Hon John Mary Ssebuwufu and Hon Hakim Kizza for also being appointed to serve on the City Executive Committee.
Your Worship, at the commencement of the previous Council, many of us arrived here with no experience and with very minimal knowledge of the workings at City Hall, but with your leadership and mentorship skills, you picked us up, held our hands and built us into what we are today. While I remain your work-in-progress, I can't thank you enough for the confidence you have placed in me. Thank you and thank you indeed.
Our dear Councillors, I thank you for considering my appointment through both the spectrum of fairness and the ability to discharge the duties of a Deputy Lord Mayor of Kampala. As Deputy Lord Mayor, I will come to you with open hands in the spirit of working together to improve the lives of the people of Kampala.
And indeed if your spirit is the same, we shall enjoy a wonderful working relationship that will see us uplifting the downtrodden. I will however be firm in the non tolerance of those who come with treachery and all manner of sabotage of as they seek to betray the common man of Kampala whether directly or otherwise.
While my strategic agenda remains fighting for the total liberation of our country, as Deputy Lord Mayor and Executive Secretary for Gender, I will do this alongside working to improve the livelihoods of our people.
Specifically, I intend to ensure the following;
1. Availability and easy access to Youth and Women funds at KCCA. This must be carried out in a transparent and equitable manner that will benefit the poor and deserving and not those who are advantaged and with connections.
2. The protection of our residents who operate in the markets and other areas. I know that there are maneuvers by a few people to overrun and tak eover the management of KCCA markets with the sole intention of continuing to exploit our people and even to evict those who think differently from the Junta. This we shall not accept and we are ready for that WAR!
3. I will fight to ensure non-discrimination of our differently abled persons in Kampala who many refer to as PWDs. The era of people constructing buildings in town without facilities of access for the PWDs must come to an end. The era of PWDs coming into the City and finding no parking facilities for them on our roads and streets is coming to an end. We must ensure every street or road within our jurisdiction must have parking slots for the PWDs. Our previous administration ensured the creation of working spaces for the differently abled persons in the KCCA market areas. In order to promote the job opportunities for them, I will ensure that all other sectors within the City provide for facilities and areas where the differently abled people can work and as well create their own opportunities.
4. As a Women Representative, Women Activist and Gender Scholar, during my tenure in office, I will make sure that No Woman is Left behind in all circumstances . I will work round the clock to ensure that Women 's Political, Social and Economic rights are not only observed but enforced and respected.
To my fellow Countrymen and women, our country continues to suffer grave injustices, from land dispossessions, to our young men and women being arrested, tortured, detained without trial and some even killed and buried in unmarked graves. As I speak now, one of us, a Councillor, duly elected to represent the people of Rubaga is languishing in jail as a political prisoner and no one knows when he will get Justice, be free and represent his people! Parents are unable to find their children and spouses unable to find their partners. All this because of one man's capture of our country and his unwillingness to let our country breath.
Our Lord Mayor and many of us continue to be involved in the struggle to free our Country and deliver it to a place where Peace and Justice shall prevail. For those who are fighting alongside us, in me you have an uncompromising Comrade. I look forward to working with all of you. Thank you!
The writer is the deputy Lord Mayor, Kampala Uganda
Do you want to share a story, comment or opinion regarding this story or others, Email us at newsdayuganda@gmail.com Tel/WhatsApp........0726054858