By Musasizi Isaac
KAMPALA-UGANDA/NEWSDAY: Kampala Parents School has shined like never before in the latest results of the Primary Leaving Exams of 2020. The school is owned by tycoon Sudhir Ruperellia.
And the jubilant school Principal Daphine Kato has said that continued e-learning played a role in the excellent performance of their school despite the Covid19 hardships that Ugandan schools suffered.
129 out of 186 candidates who sat from the centre passed in grade one with grades ranging between4 to 6.
Kampala Parent's school was among a few schools that ensured continuous learning through use of online platforms. Kato says that this helped a lot.
"We gave our best amidst a pandemic. Online lessons helped a lot, because if we had not had them, we could have not had such results. Government must help tp promote E-learning because we do not know when the pandemic will end. E-learning is very helpful and health because both teachers and the pupils stay in their respect homes," she said.
President Museveni has often praised Sudhir's schools as a good trainer of ethics and modern English speech.
Nationwide performance
UNEB says it has registered an improved show in this year's Primary Leaving Examinations (PLE) results notwithstanding disturbances in the education calendar resulting from Covid-19 pandemic.
749,761 candidates from 14,300 centers recorded for PLE in 2020 related to 695,804 in the previous year. 513,085 (68.4 %) candidates were UPE recipients and 236, 677 (31.6 %) registered from private schools.
Releasing the results from Uganda's State House, Entebbe on Friday, UNEB executive secretary, Dan Odongo, celebrated an increase in candidature by 53,957 (7.75 %), the highest rate of increase recorded. Candidature has been increasing by an average of 2.5 %t over the last five years.
As 749,761 candidates registered, only 736,942 sat the examinations. Of these, Odongo said at least 659,910 candidates passed the exams conducted on March 30 and 31, 2021.
Cumulatively, more candidates obtained division one at 11.1 per cent (81,864) compared to 10% (69,243) in 2019. Conferring to the 2020 results, 416,575 entrants (56.7 %) excelled in division two, 562, 717 (76.6 %) in division three, and 659,910 (89.8 %) in division four.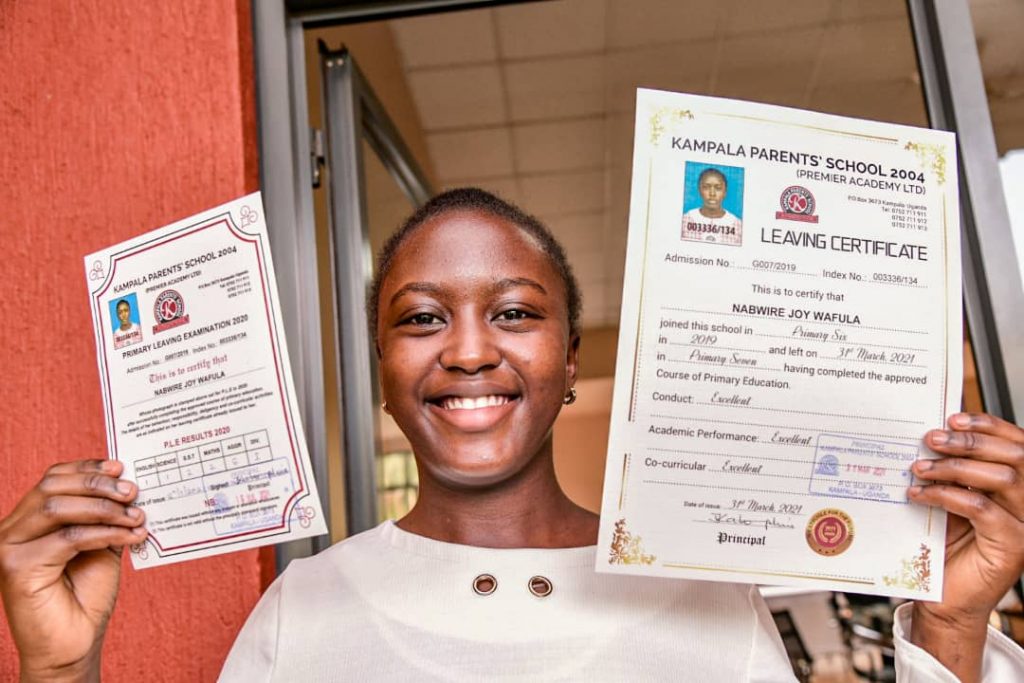 74,878 candidates (10.2 %) failed the exams in 2020 and are advised to repeatUNEB statistics indicate that candidates from private schools continued to perform better than their counterparts in UPE schools across all the four divisions.
Out of the 501,059 UPE candidates who sat the exams, only 26, 127 (5.2 per cent) passed in division one compared to 55,737 (23.9 per cent) that excelled in the same grade from private schools.
Odongo said Uneb reports have consistently shown that learners from urban private schools achieve at higher levels of proficiency than their peers in UPE rural settings miss.
He cited the fact that teachers in urban schools tend to spend more time on task, parental involvement
Overall, boys performed more than girls. 44,877 translating to 12.9% boys passed in grade one compared to 36,987 (9.5%) girls. The failure rate of girls also remained high at 11.3 % while males recorded 8.9 per cent.
Odongo said candidates' performance in English and Mathematics was poorer in questions requiring free expression or application of learned concepts in problem solving situations.
"Candidates performed better in questions that were direct and based on recall. Examiners again reported good handwriting an organised work even if the answers were wrong," Odongo said.
SST with Religious Education remained the best done subject as in the previous years with performance improvement at distinction and credit levels. It is followed by English which recorded an overall improvement in performance at minimum pass level though distinction level passes declined slightly.
Integrated Science was best performed with distinctions but overall pass level declined slightly while Mathematics had a slight drop in performance across all pass levels.
2,220 candidate's results were withheld pending completion of malpractice investigations, of these Bundibugyo and Kasese districts have the highest number.
Do you want to share a story, comment or opinion regarding this story or others, Email us at newsdayuganda@gmail.com Tel/WhatsApp........0726054858