By Stephen Lwetutte
The near daily grisly images in photos, videos and audios depicting graphic scenes of murder and unsightly marks of torture of known and suspected regime opponents and detractors have come to characterise the political dispensation and climate in Museveni's Uganda.
Although the right to life, the right not to be tortured and the right to a fair trial all enshrined in national and international law as inalienable rights, in Uganda under Museveni they are evidently violated with reckless abandon.
So intense in scale and scope are they that Ugandans have almost become impervious to them and come to accept them as normal, with the perpetrators acting absolute impunity in the knowledge that nothing can ever happen to them under Museveni's regime despite the law criminalizing their acts.
Overwhelmed by incontrovertible evidence of extrajudicial executions and torture of persons in the custody of Uganda's security services, the regime has all but given up on pretences of any kind that they are not responsible or that they are conducting a thorough, competent, effective and thorough investigations into the grave abuses.
So many and so frequent are these atrocities that it would not only be defeating the purpose of this column, with the limited time and space, but also trivialising the cases to attempt to list them here.
Suffice only to say that, in one of the latest prominent cases involving the assassination attempt of General Wamala on 1 June 2021, half of the alleged suspects have been killed in unclear circumstances and the other half has appeared in court with visible severe torture marks, hardly able to walk unaided.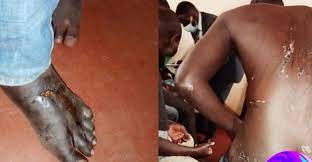 No judicial notice of that fact appears to have been taken by the presiding judge, who instead chose to remand them where he could have exercised his judicial discretion, indeed followed the law, and acted differently to not only ensure prompt and competent medical treatment, but also interested himself further about the state of health of the suspects.
Although it is late in the day given that these acts have pervaded his entire 35-year-old regime, it would still be helpful if President Museveni came out unequivocally on the issues of extrajudicial executions and torture to state publicly that extrajudicial executions and torture would no longer be tolerated and that any culprits identified regardless of rank and status would be held to account according to the law.
Such a statement would not only be in line with his duties and responsibilities as the guarantor of the Constitution, but it would also be in his best interests as a piece of evidence when, not if, one day the culprits of these violations are investigated and prosecuted.
Mr Museveni must by now surely know what absolute and non-derogable rights are – those that, regardless of his will, cannot be denied anyone, anywhere and at any time without consequences.
Even though the death penalty is still on the statute books in Uganda, Mr Museveni must understand that the arbitrary deprivation of life is prohibited and the right to follow due process is a non-derogable right. He must also be reminded that the right not to be tortured is absolute and there can never be any justification whatsoever to subject anyone to torture.
While Mr Museveni might now believe that he is the law unto himself and that he can act with impunity, which itself arises in the absence of effective measures to punish violations or due to lack of enforcement of such measures, it is not tolerated by the international community as it constitutes a denial of the victims' right to justice and redress. Therefore, Mr Museveni must understand that these crimes will in fullness of time definitely be prosecuted and whoever is responsible for them will have to answer, that much l can guarantee.It is after all not by accident that these crimes are not subject to the statute of limitations- they cannot be forgiven and forgotten on account of passage of time. The harm and trauma caused to the victims and the society at large can never be washed and wished away – they are indelibly inscribed in Ugandans' collective memory and annals of Uganda's history.
The writer is a Multilingual Human Rights Practitioner, formerly at the International Secretariat of Amnesty International in London for over 20 years and now Legal and Human Rights Consultant.
Do you want to share a story, comment or opinion regarding this story or others, Email us at newsdayuganda@gmail.com Tel/WhatsApp........0726054858