KAMPALA-UGANDA/ NEWSDAY: Latest details contained in the Bank of Uganda (BoU) have indicated Ssimbamanyo house was sold legally and that even during covid19 lockdown, businessman Peter Kamya continued to receive rent dues.
Kamya lost his Simbamanyo House on George Street and Afrique Suits after hardships to pay make payments for the two loans he acquired from Equity Bank Kenya and Equity Bank Uganda.  The properties are registered as LRV 2200 Plot 2, Lumumba Avenue known as Simbamanyo House and properties comprised Block 243 Plot 957, 958, 1799 and 1800 and Block 237 Plot 95 located in Mutungo known as Afrique Suits. But in 2016, Simbamanyo defaulted on these loan facilities and to buy time, he filed High Court Civil Suit Number 544 of 2016.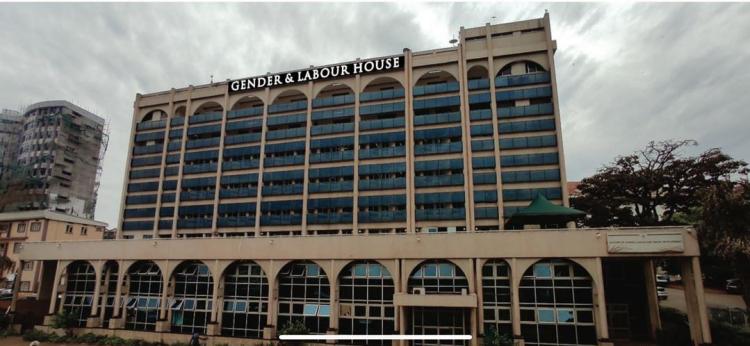 The two properties in question were also foreclosed in March 2017 after the businessman defaulted on the loans preliminary investigations by Bank of Uganda (BoU) revealed on Friday.
Kamya opted to use courts of law on several occasion to try to overcome his loan liability with the two banks.  
The report by BoU has been prepared after President Yoweri Museveni's directive contained in a  September 3, 2021 letter to the Governor Bank of Uganda to probe the sale.
Museveni's letter notes that Kamya and his wife Margaret Muganwa asked him to intervene in regard to the sale of Simbamanyo House and Afrique suits by the bank on grounds that they had been foreclosed during the Covid-19 period.
But BoU in it's preliminary investigations indicate that between 2012 and 2014 Simbamanyo Estates Limited took out various loan facilities from Equity Bank Uganda Limited and Equity Bank Kenya Limited to the tune of $7m and secured the said facilities by mortgaging how two properties.
An Audit report by Ernest and Young however showed the discrepancy was only $442.
The Preliminary BoU findings indicated that in 2017 Equity Bank Uganda began foreclosure proceedings against Simbamanyo House to recover the outstanding loan and Simbamanyo filed Miscellaneous Application No. 1159 of 2017 seeking a temporary injunction stopping the bank from foreclosing and selling the mortgaged properties. 
The report cites a October 2017 Justice Billy Kainamura who evoked the Mortgage Act, ordering Simbamanyo to deposit 30% of the outstanding loan amount else the bank would be at the liberty to sale the mortgaged properties at a public auction after 30 days. Kamya neither paid nor appealed the judgement.

Kamya continued receiving money
On July 27, 2018, Kamya using invoice R129/07/18   received sh776,613,575 as rent and part payment arrears quarter 1 2018/19.
On October 16 under Invoice number R68/10/18 Simbamanyo Estates ltd received sh1,008,000,000 as rent and part payment arrears of Quarter 2 2018/2019. 
On January 14, 2019 Simbamanyo Estates Ltd under Voucher number R34/01/19 received sh808,000,000 which was rent and service charge for Quarter 3 for the Financial Year 2018/2019. On July 29, 2020 under voucher number R03/07/20 which was sh836,531,913 which was rent and service charge for July-September 2020.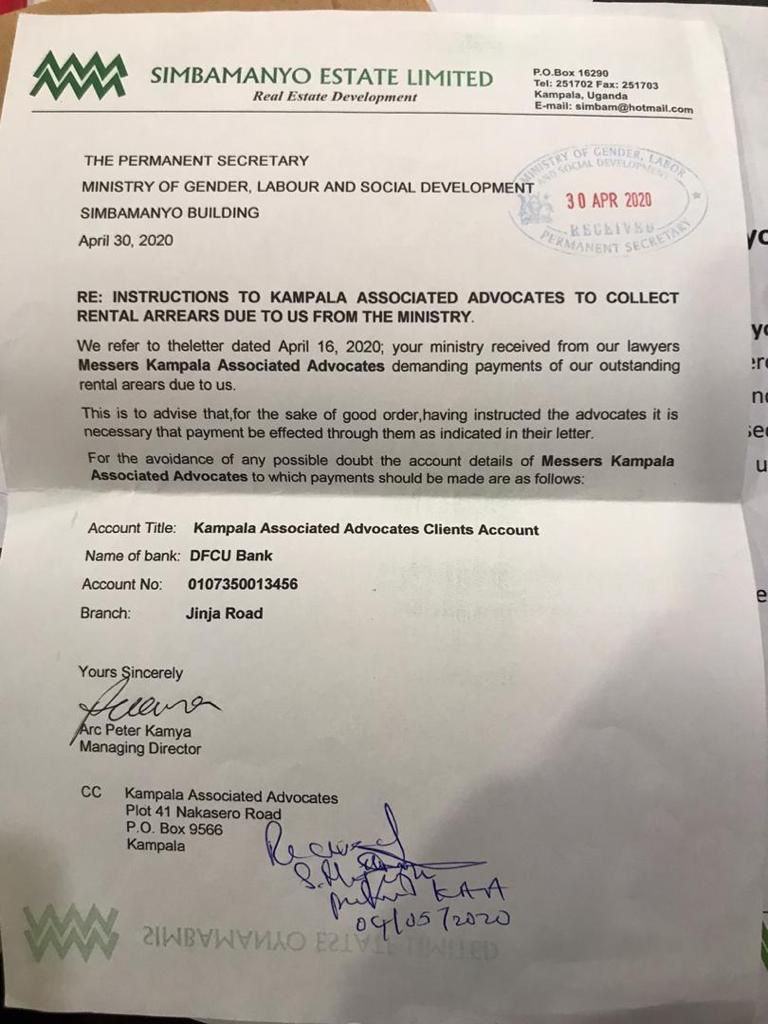 "In total the businessman received around sh7b as rent but never honored his loan agreement"the report states.
Sudhir buys Ssimbamanyo
Sudhir acquired the building in October 2020 for UGX18.5b from Equity Bank after the previous owner Architect Peter Kamya defaulted on a bank loan. Mr. Kamya also lost Afrique Suites in Mutongo that Equity Bank sold to Luwaluwa Investments.
Sudhir has already renamed Simbamanyo House—located at Plot 2 Lumumba Avenue—Gender & Labour House after court confirmed him as the rightful owner.
The building a now under the management of Meera Investments Ltd, a real estate arm of his Ruparelia Group houses Ministry of Labor, Gender and Social Development among other tenants.
Do you want to share a story, comment or opinion regarding this story or others, Email us at newsdayuganda@gmail.com Tel/WhatsApp........0726054858