KAMPALA-UGANDA/NEWSDAY: Just days after a suit against President Museveni by Retired Supreme Court Justice George Kanyeihamba, a letter has emerged when he as Justice Minister in 1991 instructed the Principal Judge to stop bails for some offenders.
Addressed to the Principal Judge, the letter March 13, 1991 letter was copied to the Director Public Prosecution, the minister for internal affairs among others.
"The government has on different occasions expressed concern that people charged with embezzlement and corruption involving huge sums of money got bail so easily from magistrates. We have instructed State attorneys and police prosecutors to oppose bail in this type of case. May I request that something be done to this practice?" Kanyeyihamba wrote.
He argued that releasing corrupt officials undermined the progress of cases as when suspects were released, they used some of the money to corrupt the police to cause files and reports to disappear.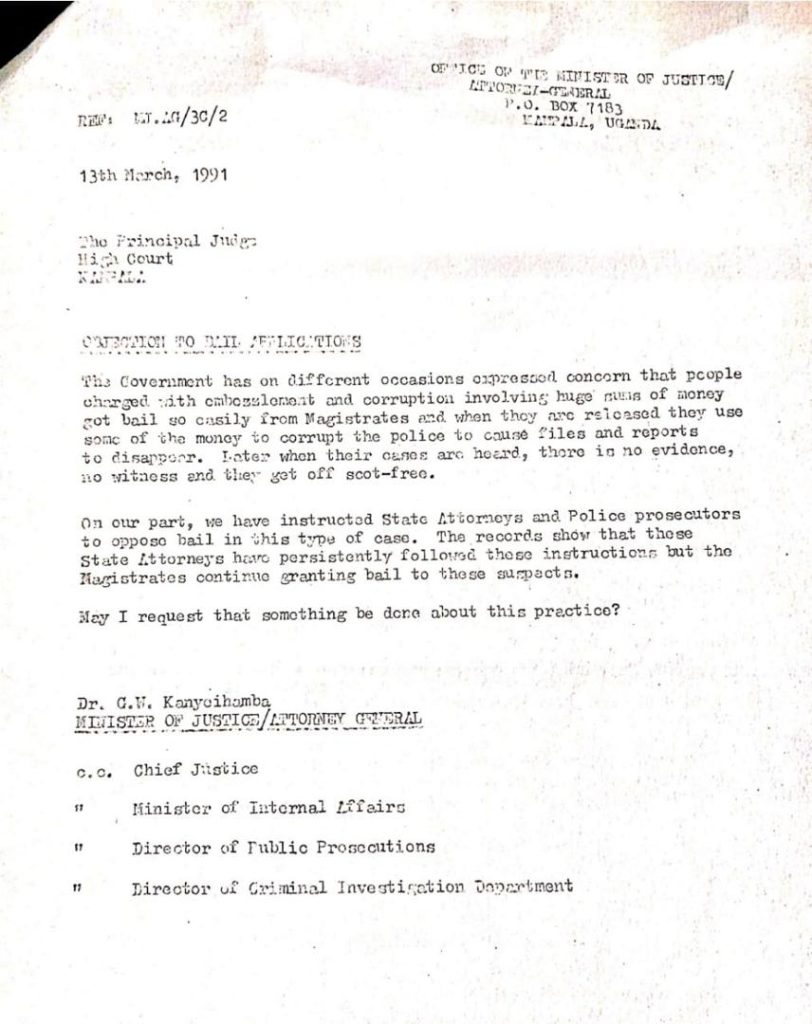 "Later when their cases are heard, there is no evidence, no witness and they get off scot-free. The records show that these State attorneys have persistently these instructions but magistrates continue granting bail to these suspects.
Prof Kanyeyihamba together with five human rights activists sued the President of Uganda, Yoweri Kaguta Museveni for suggesting alteration of the law regarding bail applications and release of suspects on police bond.
The other petitioners are; John Solomon Nabuyanda, human rights activist and student of Law at Makerere University, Edrine Prince Bbosa, the students leader and Guild representative councilor of School of Law at Makerere University Students Guild, Alex Wavamunno, an activist and student of Law Makerere University, Williams Ronald Asiimwe, student of Law at Bishop Stuart University Mbarara and President of Uganda Law Society Students Association, and lawyer Simon Ssenyonga.
Museveni is sued jointly with his party National Resistance Movement, and the Attorney General of Uganda who is accused of endorsing amendments on bail and recommending for alteration of section 25 of the Police Act, which they say threatens the right to police bond.
The Constitutional petition stems from the remarks made by President Museveni on September 27th 2021, at the Judiciary headquarters in regard to the issuance of bail to suspects on capital offences.
According to his statement, Museveni told the judges who were attending the 4th Benedicto Kiwanuka Memorial Lecture, that it is a provocation to grant bail to a capital offender and giving suspects bail is not a right. Subsequently, Museveni added that he was to use political means to see that bail for capital offenders is scrapped off.
Now, Justice Kanyeihamba and his group, which say that they filed the petition out of public interest, contend that Museveni's remarks are unconstitutional and contravene several articles of the Constitution and International treaties to which Uganda is a signatory.
The group also attacks Museveni's post on twitter stating that the law providing for bail application be altered, which to them is unconstitutional.
They further state that Museveni's action of summoning the NRM Parliamentary Caucus to discuss the alteration of the right to bail application is a threat to the said right and contravenes the constitution.
According to them, inflexible actions and attitude of the cabinet to endorse the memorandum of the proposed recommendation to alter the laws regarding bail application and police bond is unconstitutional and a threat to right for applying for bail. To support his case, the lead petitioner who came to court physically being pushed in a wheel chair has attached a number of articles written by various media houses in relation to Museveni's statements on bail and his speech at the recently concluded lecture to remember the former Chief Justice Benedicto Kiwanuka.
The retired judge maintains that right to bail application is a fundamental human right which should not be tampered with although the Attorney General and government have the right to limit the fundamental rights and freedoms.
Kanyeihamba through his lawyers of Centre for Constitutional Governance states that the alteration of the right to apply for bail can only be done in line with the constitution and international laws.
Now they want Constitutional Court to issue an order prohibiting Museveni, the Attorney General, NRM party and any other person from furthering any of such actions that threaten the right to bail application and police bond.
Do you want to share a story, comment or opinion regarding this story or others, Email us at newsdayuganda@gmail.com Tel/WhatsApp........0726054858