KALUNGU-UGANDA/NEWSDAY:
Life Christian Church Pastor Jackson Ssenyonga has been accused of withholding three family land titles with a widow and heir now threatening to sue.
The family says, in 2004 after the death of a brother of Pastor Ssenyonga, Ms. Keeti Kaate an aunt to Ssenyonga handed over the three land titles for safe custody to Ssenyonga.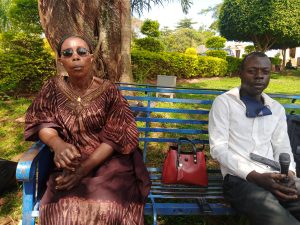 "We have repeatedly attempted to seek audience with him to get the titles from him but he has refused. Apparently the heirs to the said land are mature adults with children, why can't he give us the tittles? Encroachers are taking our land even part of the burrials site is soon being eaten up" James Kityo Ssenyonga Katetemera a heir to Ssenyonga s brother said.
Ssenyonga accuser Ssalongo
The titles in question are located in Lukaya,Lusango road, Kalungu District, Lukaya town and Kituntu in Butambala district where Ssenyonga's ancestral home is located .
"I am the heir and Ssenyonga is not even the caretaker but the way he behaves is kind of he is owner of our land. He has not kept family members close to him then what business does he has with our tittles? asked Nnaalongo Namakula a mother to Kityo and a sister in law to pastor Ssenyonga.

Another Ssenyonga accuser
All the said land is registered in the names of Paul Katetemera who died in 2004 leaving behind a, Widow Florence Nalongo Namakula,
"It is disheartening that a man of God intends to take our land, " Ssalongo said.
Ssalongo said that Ssenyonga says he can't give them the titles because he claims we are not yet grown to take custody of our land title
Another Kyeyune Jonathan also cried out for their land in Land at Kitumba where he is heir to 27 acres.
Do you want to share a story, comment or opinion regarding this story or others, Email us at newsdayuganda@gmail.com Tel/WhatsApp........0726054858