KAMPALA-UGANDA/NEWSDAY: "Could I start my own life?", this question lingered in my head, Phiona Nabitengeero and Fifi da Queen, a TV personality says.
"When my mom and dad died, they left me and my siblings almost for none, my soul sunk into thoughts, we had hit a wall. And I was only a child of a few years."
"I was a darling to my parents, especially my dad but this never lived long- the world took away the pride of being a child," Fifi says.
She was born to the late Justin Nazziwa and Steven Nsereko of Wobulenzi, who both died a year apart in the 1990s.
"Dad died when I was in P5 while mummy died when I was in P4. The world started to treat me like an adult,"Fifi says.
She says she faced a lot of cruelty because her dad in his will left all the powers in her hands.
"The first hands of the people who took care of me were cruel. They looked at me as a threat because dad left all powers of property in my hands. He left me as heir but relatives rejected this. They claimed it was a taboo,"
"Mine has been a sad-tough journey but this shaped me. In fact, the cruelty I met assisted me to become a resilient, hardworking woman,"
She says during her HSC vacation she decided to leave Kawempe, where his step father had adopted her and she settled in Makindye with her two brothers- Frank and Fred and cousins.
At the time she went independent, her step mom at Kawempe had sent her away from home.
"At one moment mom went to my school and said a lot of ill and she sent me away, only for the head teacher to give me refuge at school,"
In 2008, Fifi rented her first house at Shs.150.000 in Makindye and it was the NGO she volunteered for that paid the first year rent and feeding.
"I had to think on their behalf-taking them to school, feeding them, providing medicare…yet I was also a student
She says she has seen all the pain and negativity, therefore  "kati nze omuntu talina kyangamba" (nothing new to me).
In that way she became open and told the truth while she also gained self-love and confidence.
Fifi says whatever she went through has taught her how hard life is to single ladies and how women suffer to bring up their children.
"I wanted to be a lawyer at some point in life to advocate for children and women…it takes a lot for a woman to be noticed," Fifi says.
She says it took her a lot to stand out among men and this has created her fondness to advocate for child and women rights.
"That thing of being a woman and men give you a price because of say, how you are dressed…those must stop, as women we need to support each other.
"Giving another woman a hand is successes…..train a woman, train a nation," fifi says.
Fifi who started life as a volunteer with an NGO, later to join entertainment at Bukedde Fm, venturing into music and TV presentation is now a businesswoman, running a labour export company.
As a teenage girl, Fifi worked with a nonprofit organisation.
However, her prominence peaked while she worked at Bukedde TV at a lunch time show.
She is a controversial figure on facebook and instagram, many times posting difficult to interpret commentaries.
"I get so many messages from my fans whose posts don't have a wider reach. In whichever message I pick interest, I contact the sender and we agree so that I post as if I am the one talking," Fifi says.
"These posts have confused my supporters, each of them interpreting my character their way," she says.
Solid Marriage, mother of many
Fifi is married to a school time lover, Fab love, a businessman.
"I met him way back when both were high school students. Both of us participated in charity groups in our parallel schools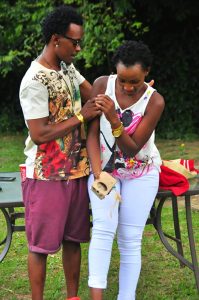 "We betted that each of us is the leader and he liked how a girl exercised a lot of authority. We lost touch after school but met later and got married," Fifi tells Newsday.
We have children, many of them. I am a Mom of many children, he is also a father of many,"
"We are solid. HE is my friend, my business partner…..my kavuyomate…we have a team. The Us against the world……." Fifi says.
She says whereas her husband is a staunch NRM supporter, herself is an opposition- specifically a supporter of Bobi Wine
Do you want to share a story, comment or opinion regarding this story or others, Email us at newsdayuganda@gmail.com Tel/WhatsApp........0726054858