KAMPALA-UGANDA/NEWSDAY; Businessman Ham Kigundu has criticized 'some thieves' in Mengo's Buganda Land Board-BLB who he alleged use blackmail to cover up their ill actions in which they have sold out Kabaka's owned land and that of Baganda.
In a video recorded this week, Kiggundu said that as a Muganda, he cannot differ from the aspirations of Buganda or even a fight with my King.
His comments come after the resurrection of a land war at Kigo for which he had forfeited but Mengo officials opted to continue with, petitioning the Commissioner Land Registration to cancel Ham's titles.
''I clarified this and I had deescalated the conflict but the moment I have realized that there are thieves within Mengo who cover under the Kabaka, who use the institution to steal Kingdom land, the land for the Kabaka and Baganda,'' Kiggundu said.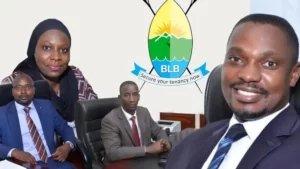 Kiggundu named Bashir Kizito who he said is also Wakiso District staff surveyor while at the same time the head of mapping and surveying for BLB.
''He writes reports for Mengo, he verifies them and he us the same person who approves the same at the district. 'You can't author and verify your own reports. The IGG should investigate Bashir Kizito over conflict of interest, between the private and public sector,'' Kiggundu said.
He also took issue with named one Rehema who he alleged is one of the people who are behind the sale of Kabaka's land.
''At Kigo, the Kabaka had over 320 acres of land but they sold it all to Indians and Chinese. If you are Kiggundu, a Muganda, they don't sell to you,'' Kiggundu said.
A Plot of land measuring 50 by 100 feet costs Shs.100 million yet an acre could shoot to well over a billion shillings.
Not first time
In 2017, Mengo was accused of illegally taking over Bobi Wine's land at Busabala.
BLB has also been acused of leasing away a school land at Kigo Prisons Primary school.
Around the Kingdom, there are many accusations BLB has illegally taken over land without proper accountability.
In their own report, they pointed out that the land at Kigo is registered in the name of Kabaka Daudi Chwa but they have taken it over. There is a long standing row between the family of Chwa and BLB over what Chwa's family call theft.
Background on Kigo land
On March 21 businessman Kiggundu said he had given up on a disputed chunk of Land in Kigo, but when officials of BLB petitioned against him, he had to offer a defense.
But documents show that the Kabaka of Buganda through his lawyers of K and K in a joint petition filed with S and L Advocates on March 23, only two days after he had withdrawn, he was reported to the Uganda Land Commission accusing him of overlapping Kabaka's Mailo with freehold titles.
Kigundu had conceded that 'I bought the said land from Wakiso and I was given titles. I proposed to make a joint survey but BLB is hesitant. As a Moslem I can't escalate this. If they insist it is Kabaka's land, who I am I to continue the conflict. I have given up with land. I can't stand to be seen as fighting with Buganda,' Kiggundu said.
The disputed land is located on Block 273, part of the former 16.62 square miles owned by late King Daudi Chwa. Fred Muwema, lawyer to Kiggundu, says that an acreage of 164.33 acres, is public land and marked as total lake area- clearly shown on a cartridge map under two parcels of land with that of Chwa being PIN 26 yet the rest of the public land is PIN 20.
'The talk about freehold titles overlapping Mailo, according to Muwema must have begun after BLB applied to amend the boundaries of block 273 during the creation of a lease in favour of Serena on plot 23042- that explains why Serena holds land under two tenure systems on Mailo land, 37.30 acres and on former public land- 95.34 acres currently owned by our client,' Muwema says
He asserted that Kiham's land is situate on public land and that Wakiso district issued the land titles legally with an acreage of 241.56 acres on plot 23720, Block 273. However, on ground there is only 95.34 acres. But Newsday has seen documents from Wakiso disputing the process under which Kiggundu's company acquired this land.
Muwema says that BLB irregularly made an extension of Mailo land block boundaries to cover the total lake area.
'We maintain that our client's titles do not overlap Kabaka's Mailo,' Muwema said and asked the Land commission to either dismiss BLB's claim or institute a joint survey involving BLB and Kiham.
On march 23, 2022 Kabaka through his lawyers, petitioned the commissioner land registration informing him that Kiham had overlapped Kabaka's land on Block 273 plot 23720 which had since been subdivided. They called for cancellation of these certificates.
"It has come to our client's knowledge that freehold certificates of title were erroneously and illegally created over our clients official Mailo. From the survey report commissioned by our client it was established that the freehold interest overlaps the official Mailo interest. The act of creation of freehold certificates over our client's mailo certificates is illegal and erroneous as two interests that exist in perpetuity cannot exist simultaneously over same land,' the petition reads in part.
In March this year Kiggundu had attempted to create an access way towards his land but Mengo thwarted the effort. The Uganda National Roads Authority- UNRA which had granted Kiggundu's firm rights to make the road, withdrew it.
Survey report
In a non-dated report by Kizito, a registered surveyor, he said the land is registered under F.C 18454 in H.H Daudi Chwa measuring 16 miles and 228 acres on Block 273, and others.
'Kiham's freehold titles on the other hand comprise in Kyadondondo block 273 on plots 23974 and others measuring 140 acres,'
Do you want to share a story, comment or opinion regarding this story or others, Email us at newsdayuganda@gmail.com Tel/WhatsApp........0726054858