KAMPALA-UGANDA/NEWSDAY: A newly hooked beauty queen who was due to introduce socialite Emmanuel Lwasa on Sunday has vanished and switched off her phones hours before she was due to welcome his supposed boyfriend at her parents' home outside Kampala.
Vanessa had received Shs.30 million from Lwasa- with Shs.10m budgeted for gifts meant for the parents while Shs.20 million had been planned to organise the home.
But Vanessa switched off her phones leaving Lwasa and his entourage in confusion. An emisary sent by Vanessa told Lwasa's camp he would not be welcomed owing to his conduct.
In protest, Lwasa retorted that losing Shs.30 million was not a big deal.
"Shs.30 million is peanuts to me. i am going to marry someone else," Lwasa said.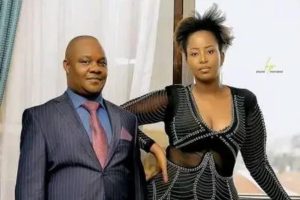 He had on Friday posted on his tweeter announcing that "On Sunday October 2, I will visit the home of my king time friend, Vanessa."
In his post, Lwasa said that he had stayed together with Vanessa for and during their cohabitation, Vanessa share has her "all with me".
"I don't care about money I invest into someone I love. If those who loved her before me failed to visit her home, a rich man as I am from Masaka won't fail. I don't stay with a wife when I am unknown at their home" Lwasa had said in a statement two days before the D.day.
He said visiting a fiancee's home is one of the gifts he offers during love.
"I have not solicited support from anyone. If Vanessa is a con, let her be. If she eventually decides to depart from me, I will marry another one,"Lwasa posted.
Do you want to share a story, comment or opinion regarding this story or others, Email us at newsdayuganda@gmail.com Tel/WhatsApp........0726054858