By Our Staff Writer.
KAMPALA-UGANDA/NEWSDAY: National Social Security Fund ex-CEO, Richard Byarugaba faces a string of corruption-related accusations which emanate from greed and an African Primitive man at the center of power and money.
Mr. Byarugaba, who has served through the ranks at the NSSF for years, if found guilty in the ongoing investigations against him by Parliament and the Inspector General of Government is liable to be jailed for dozens of years just like some of his predecessors already convicted of graft of the worker's money.
Mr. Byarugaba was born in 1961 in Western Uganda and attended Makerere University where he attained a degree in statistics and economics before attaining another qualification in accountancy from the Association of Chartered Certified Accountants of the United Kingdom (UK). He also has a Henley Management College UK diploma in management.
Before joining NSSF, he had worked at different banks including Standard Chartered, the defunct Nile Bank, and Global Trust among others.
Byarugaba been privileged. When he joined NSSF nearly 15 years ago, he earned Shs.39 million but by the time he was suspended late last year, he had reportedly shot to shs.89 Million per month, making him one of the highest or top-paid chief executives in the country.
However, with the Primitivity of a typical African man, Byarugaba also chose to be driven by corruption a charge he is now facing after whistle blowers raised a red flag to the President and the IGG.
At every deal including from land purchases to real estate development, according to a dossier by the Gender Minister Betty Amongin, Byarugaba would earn a kick back.
Amongin also alleges that Byarugaba has presided over theft in inflating construction costs of various sites at Lubowa Solana Estates – Makindye Ssabagabo, Ssentema housing estate and the Workers Tower.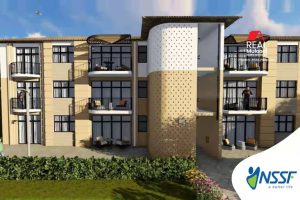 And the above are a centre of his woes.
At the Pension Towers, a project launched in 2006 the initial contract cost was Shs.260bn but this was suspiciously raised by Shs.42bn in 2012 and yet in the same year the IGG had pinned officials for handpicking contractors.
When the second phase of the Pension tower was launched in 2012, lower than Shs.410bn had been budgeted. But Byarugaba's quest for get-rich-quick inflated the cost by 57 percent.
"It is alleged that part of the money-5 percent was directly paid to Byarugaba in bribes," Amongin wrote in her letter. Byarugaba allegedly received the money through De-Point Consultants Limited.
"The money was wired to a Bank in Mauritius and then to Barclays bank in London," Amongin says.
The total cost of the Pension house if the current requisitions are to be honored will make total expenditure at Shs.522bn.
Mr. Byarugaba is said to have variously connived with contractors to escalate budgeted fees.
It is also alleged that through a company called Symbion, redesigned his own house at Mbuya in exchange of business to a SMS contractors.
During the purchase of MTN and Quality chemicals shares by NSSF Byarugaba and NSSF's investment team is said to have received kickbacks. Another Shs.3bn kickback is said to have been given to Byarugaba to construct CITADEL apartments at Mbuya.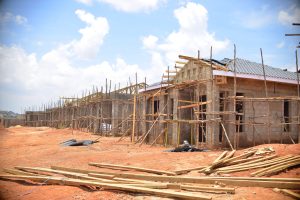 The IGG in 2012, ordered Byarugaba to refund some money to NSSF after he was found culpable of causing financial loss to the fund.
While he was CEO, Byarugaba oversaw the sale of NSSF land in Mbarara at a less cost than market value in return for a bribe.
The woes of Byarugaba are his own making if the investigations pin him to the impropriety allegations, it will confirm the saying of the Primitive way of accumulating wealth.
Do you want to share a story, comment or opinion regarding this story or others, Email us at newsdayuganda@gmail.com Tel/WhatsApp........0726054858