KAMPALA-UGANDA/NEWSDAY: A row between the Principal of the National Unity Platform (NUP) Robert Kyagulanyi aka Bobi Wine and the Uganda People's Defense Forces (UPDF) over confession of a torture victim, Eric Mwesigwa has escalated with either side accusing the other of lying.
It comes after contradictions in two separate confessions by one man- the first last month when Mr. Mwesigwa visited Kyagulanyi accusing government agents of abducting and torturing him and another on Monday March 1 when the same man was paraded before the media and accused NUP of organizing his torture to tarnish government.
"The NUP members promised me a fee of Shs50 million and a trip to the USA. They told me, do what they are telling you. But I can assure you that even where I was residing, they refused to pay the rent," he said.
Mr. Kyagulanyi said the contradictions were the machinations of a shameless, criminal regime who are deploying same old tricks.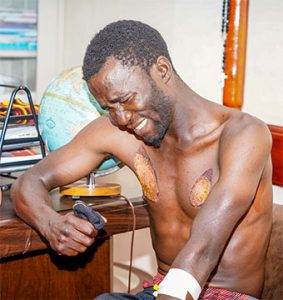 "Same ridiculousness. Mwesigwa has been complaining of being trailed ever since he spoke about his torture. (Now) in the army barracks, they parade him to claim it's NUP that tortured him! What a bunch of thugs!" Kyagulanyi tweeted.
But in Mwesigwa's parading press conference, UPDF spokesperson Felix Kulaigye warned the opposition of maligning the government.
In his thread of the tweet, Bobi Wine said that the UPDF played things amateurishly but Ugandans won't be hoodwinked into separating Mwesigwa's torture from the army.
"I am sure nobody in Uganda can fall for this nonsense. They know so well that Museveni's regime of blood came through violence and deception, and continues to hold onto power using the same tools. This is their standard behaviour!" Bobi Wine said.
He reminded the nation of how after the shooting of Yasin Kawuma in Arua, UPDF claimed that NUP had carried out the murder.
"To date they have never arrested or prosecuted anybody. The country is also aware of the contradictory statements that former President of NUP Mzee Kibalama made in court…," Bobi said.
He said that vigilant Ugandans have always recorded videos of most of these abductions involving armed security men and every time there have been such incidents, majority of the victims have been arraigned in court after pressure from our lawyers and the public.
He cited examples as Katto Hussein Gaza, Motiv Kasaga, Bobi Young, Jamushid Kavuma, among others whose abductions were video recorded only for them to be prosecuted by government.
"We hope the blatant lies by the UPDF spokesperson are motivated by embarrassment, and that moving forward, they will stop abducting and torturing citizens. They engage in these panicky gimmicks is because they fear sanctions and prosecution, which will certainly come," Bobi tweeted.
Do you want to share a story, comment or opinion regarding this story or others, Email us at newsdayuganda@gmail.com Tel/WhatsApp........0726054858