KAMPALA-UGANDA/NEWSDAY: Blogger Isma Olaxes aka Jjaja Iculi has been shot dead, see his last video now.
Self-styled vlogger, Ibrahim Tusibira aka Isma Olaxes aka Jajja Ichuli has been shot dead near his home in Kyanja, a Kampala suburb, a few days after he celebrated the death of former state minister for Labour, Charles Engola.
Engola was shot dead on Tuesday morning by his own bodyguard Private Wilson Sabiti inside his home also in Kyanja before also shooting himself following disagreements over unpaid salary and allowances. Ichuli would afterwards accuse government officials of treating their lower-ranked staff as trash, saying even more will be killed.
Ichuli's shooting is reminiscent of the previous killings of former Buyende district police commander Muhammad Kirumira, former police spokesperson Andrew Felix Kaweesi and former MP Ibrahim Abiriga who were attacked from all sides, and their vehicles showered with bullets.
Ichuli has been an outspoken critic and he had made a career out of attacking the opposition National Unity Platform (NUP) party and its president Robert Kyagulanyi.
In fact, following the November 2020 riots in which as per government's own admission over 56 were shot dead, Ichuli said security ought to have killed more opposition supporters so as to show Kyagulanyi and his supporters how the state is in charge. He would, later on, apologise for the reckless statements, saying he made them at the peak of presidential election campaigns when emotions were very.
It is not only opposition supporters who tasted his bitter tongue, he previously attacked prime minister Robinah Nabbanja, speaker Anita Among, and businessman Hamis Kiggundu among others though by the time of his death he'd made up with them and would publicly admit to now working for them.
This week, he again vented out his frustration with the government, saying they had 'used' him during a volatile campaign and had now abandoned and dumped him. He'd vowed not to campaign for the ruling party ever again come 2026, saying they often forget about their foot soldiers as soon they regain power.
According to earlier interviews that he conducted, he lived in Sweden before he got deported to Uganda. He set up a painting company but has always been complaining about the lack of contracts.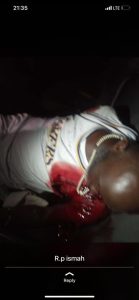 Do you want to share a story, comment or opinion regarding this story or others, Email us at newsdayuganda@gmail.com Tel/WhatsApp........0726054858