TORONTO: The two-day NRM symposium for the Ugandan community in Canada opened in Toronto City on Saturday, with a call on all Ugandans in the Diaspora to consider investing back home.
Speaking at the official opening of the symposium in Toronto City, the Third Deputy Prime Minister and Minister without portfolio, Rukia Isanga Nakadama, said the NRM government had sailed through the most violent and turbulent storms.
The party was now well tried, tested and found worthy to continue steering the political leadership of Uganda, Nakadama said.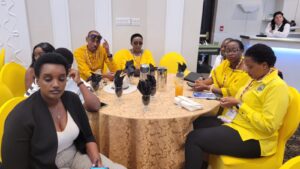 A statement by NRM secretariat senior manager for information Rogers Mulindwa said Nakadama urged those in the Diaspora to invest back home in order to constitute the private sector, create jobs and help generate the economic growth.
Nakadama said the NRM government was committed to supporting those in the diaspora to lead productive and dignified lives within their respective countries abroad.
"The NRM government is ready to work with people in the diaspora irrespective of their political affiliation. I, therefore, welcome you back home to do business and use your innovation and selfless service towards the development of Uganda," she said.
She commended the NRM Chapter in Canada headed by Fred Musisi for mobilising others towards a common goal but reminded him of an outstanding challenge of fostering unity and luring more people into the NRM chapter and maintain a closer working relationship with the party Secretariat in Kampala.
The Deputy Premier said it was also necessary to start registering all Ugandans living in Canada.
Babalanda preaches positive behaviour
The Minister for Presidency, Milly Babalanda, said those in the diaspora were the faces of Uganda and cautioned them against exhibiting negative behaviour.
"I am happy that the Canada NRM Chapter has embarked on cleaning the image of Uganda maliciously damaged by unpatriotic actors with selfish interests," she remarked.
Babalanda said the strength of NRM and its ability to govern for over three decades was rooted in the Party's push for the population's interests rather than individual identity.
That is why it has been able to build a strong national army, attract foreign businesses, collect more taxes, cause social- economic transformation and work with other African states. She invited the Canadians to come and invest in Uganda.
Present at the function was Minister for Lands, Housing and urban development Judith Nabakoba, who presented a paper of land acquisition for investment in Uganda.
Also present were Amb Joy Ruth Aceng, Uganda's High Commissioner to Uganda and Amb Abby Walusimbi the Senior Presidential Advisor on diaspora matters were also present.
The symposium attracted over 300 participants and closes this Sunday. The NRM Deputy National Treasurer, Jacqueline Kyatuhairwe will have a presentation on the NRM ideology and its impact in luring investors to Uganda.
Do you want to share a story, comment or opinion regarding this story or others, Email us at newsdayuganda@gmail.com Tel/WhatsApp........0726054858