KAMPALA: The former Personal Assistant to Lord Mayor Erias Lukwago, Elvis Kintu Nsonyi, has rubbished reports that he dumped the former and is now hobnobbing with National Unity Platform boss Robert Kyagulanyi (Bobi Wine).
Media reports recently indicated that Kintu who now lives in the US had left Lukwago's camp and joined Bobi Wine because of the meagre pay at City Hall.
In an interview with local media, Kintu said both leaders were his friends.
"What was the source of this trash? How I wish they had talked to me or the Lord Mayor. In the first place, Bobi Wine was my friend before I joined KCCA, he even attended my wedding in 2016 and by then he had not joined elective politics," Kintu said.
On the low salary Kintu said: "The Lord Mayor isn't responsible for anyone's remuneration at KCCA, it is instead Public Service that determines salaries."
"As a Supervisor, I earned sh7.6m a month as salary, is that meagre pay surely as they claim?" Kintu wondered.
He added that he was still handling some work for Lukwago.
"I actually talk to the Lord Mayor almost daily, what do they mean by abandoning? The only truth about this said article is my name," Kintu added.
On leaving the country, Kintu said he had to go for the sake of saving his life which was then in danger.
This, he said, was after he thwarted a plot by security personnel to illegally collect sh200m daily from bodaboda riders who enter the city.
"Do you know that my colleague, Umar Magala, the Personal Assistant to the KCCA Executive Secretary for Physical planning and Civil works has been in jail for months now over trumped up charges? They picked him from the Lord Mayor's Parlor and you recall very well that the Lord Mayor tried to intervene but all his efforts were frustrated. Do you know how many innocent young people are rotting in Luzira, Kitalya, Kigo and several other prisons for political reasons?" Kintu asked.
He joins political firebrands and stalwarts like Innocent Kateregga of Bukomansimbi, Paul Ssembajjwe the DP youth leader who also contested in Buvuma for Member of Parliament.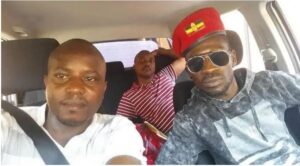 Who is Elvis Kintu Nsonyi?
Elvis Kintu was born in Kitovu, Nyendo-Mukungwe Division, Masaka City in 1987. In 2019, he graduated from Uganda Martyrs University, Nkozi with a Master's Degree in Local Governance and Human Rights.
In 2011, he graduated with a Bachelor's Degree in Social Sciences from Makerere University. Elvis Kintu worked with KCCA as the Executive Assistant to the Lord Mayor, His Worship Erias Lukwago.
He had previously worked as the Capacity Strengthening Coordinator of the Democratic Party, a programme under the Interparty Organization for Dialogue (IPOD) arrangement.
In 2010, he managed the Democratic Party General Presidential Campaigns as the Field Campaign Manager before being the Aide De Camp to the Democratic Party President General Hon. Norbert Mao (now Justice Minister).
He has served on different School Management Committees and Boards including; Bukalasa Minor Seminary where he is an Old Boy, Mengo SS, Ggaba PTC, St. Andrew Kaggwa Gombe S.S, Muteesa II P/S among others.
He is a member of the Central Organizing Committee of Kampala Archdiocese. He was the Kampala Capital City Lead for the Mayors Migration Council and used to travel to the USA every year since 2018.
His political career started at Makerere University where he was the Prime Minister of Makerere Students Guild in 2009.
He is married to Esther Nanfuka Kintu, formerly a Councilor and Executive Member for Education Health and Sports at Division B, Entebbe Municipality in Wakiso District.
Do you want to share a story, comment or opinion regarding this story or others, Email us at newsdayuganda@gmail.com Tel/WhatsApp........0726054858