KAMPALA: Parliament has ordered an independent probe into the sh9.6b coffee drinking promotion which has raised eyebrows in both corridors of power and street corners.
The Office of the Prime Minister is said to have contracted a company to teach Ugandans how to drink coffee at a tune of sh9.5b, which Members of Parliament said was a wastage of public resources.
The legislators want the culprits punished severely. One MP even warned that if such wasteful expenditure is not punished, "the government may soon ask for funds to teach Ugandans how to use condoms".
Rukia Nakadama, Third Deputy Prime Minister, however rejected the nomenclature given to the project, saying, "The name that was given for drinking coffee, it was for popularizing coffee intake, not to teach people how to drink coffee. I think it was given a wrong heading. It should be popularizing the intake of coffee."
Leader of Opposition in Parliament Mathias Mpuuga said: "The whole idea of promoting coffee is being handled at the tail end before promoting production, we are promoting consumption of what isn't available."
"I am a coffee farmer at the large scale and as I speak, there isn't enough coffee to supply the market, and we should be supporting the communities to grow coffee," the MP added.
He further said: "Those who want to consume coffee will find motivation to take the coffee, but at least, there is a general motivation of selling to get money, that we must promote."
Mpuuga urged Parliament to use this coffee scandal as an opportunity for MPs to be stricter on some of these social action programmes, where the beneficiaries settle for a raw deal, despite the billions allocated in such poverty alleviation programmes.
Who took the contract?
According to available authentic documents, the sh9.6b was handed to Inspire Africa Uganda (Ltd) owned by one Nelson Tugume in FY 2017/2018.
The money was meant to carry out four activities; training youths in coffee production cost sh3.831, consumption of coffee and putting up coffee shops at sh1.906b, capacity building (teaching the youth financial literacy & business management skills) at sh2.652b and project administration at sh1.271b.
Findings
However, the Auditor General revealed that although the contract provided for the establishment of coffee shops in; Arua, Mbale, Lira, Gulu and Tororo; physical inspections revealed that except for Gulu, the coffee shops were either non-existent or non-operational in areas where they were supposed to be placed.
In a report by the Public Accounts Committee chairperson, Medard Ssegona, he said: "Yes, the money was expended by OPM to promote the drinking of coffee by building coffee kiosks across the country. We made specific findings by the Committee on how far the partner went in implementing this & we came up with the conclusion that they aren't there. And we came up with a conclusion that actually it was unnecessary expenditure."
Scandal after scandal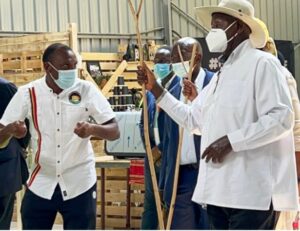 Information reaching this website indicates that the same Tugume has been implicated in another scandal in which members of the Coffee consortium which he heads have started quitting over lack of accountability.
Trouble brewed from the sh3.7b that President Yoweri Museveni gave to the consortium to use on a trip to Serbia to showcase their products.
However, the members realized that although more sh2b had left the account, Tugume had refused to account for it.
Those who have since left consortium include Jackie Arinda of Jada Coffee, Kwezi Kutesa of Kwezi Coffee and Gerald Katabazi of Volcano Coffee.
The departure of the key members also puts at stake the future of the much-touted Coffee Investment Consortium Initiative, which is set to receive sh37b to promote coffee exports.
The members say the regretted why they joined the consortium as "it has lost direction and members don't know what is going on."
Arinda told local media the consortium's leader, Tugume, "is not accountable at all and no longer holds meetings to update members on the progress of the consortium's work."
In an interview with ChimpReports, Katabazi said: "Well, I was duped into thinking it was wise. The photo came with very senior citizens of the land, but the fellows I followed aren't those whom I knew, to be honest, never. Now I have to go with this damage to my coffee career because I didn't listen to my friends."
Tugume is also being accused of trying to influence the change in plan for the sh37b package.
Coffee farmers like Robert kabushenga have opined that that the coffee drinking promotion was fraud.
"Basically this was a fraud. The same person (Tugume) was advanced UGX 3.7 BN in May 2023 to promote UG coffee. But in fact it was shared among 7 people. When asked what they were going to do with the money they said US$ 500,000 was supposedly to buy furniture for the Belgrade cafe/shop," Kabushenga said.
Do you want to share a story, comment or opinion regarding this story or others, Email us at newsdayuganda@gmail.com Tel/WhatsApp........0726054858