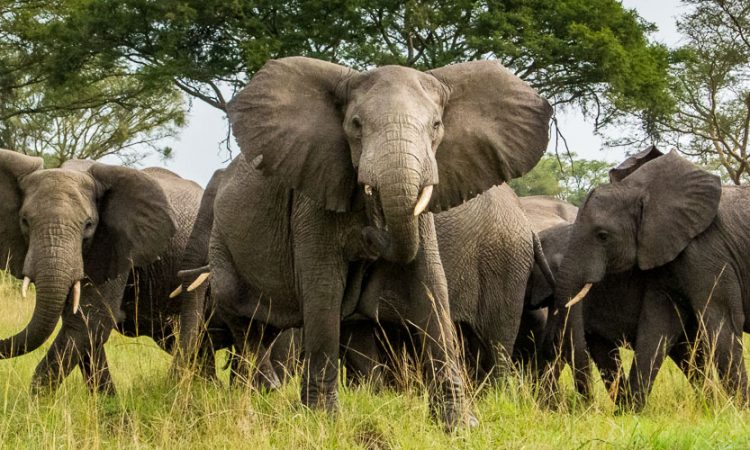 Kasese. Residents of Karusandara, neighbours to Queen Elizabeth National Park, Kasese District are demanding that Uganda Wild Life Authority-UWA to extend electric fencing to the area following the death of 54- year-old Johnstone Mbusa by an elephant on Wednesday.
Charles Bangaowabo the LCI chairperson Karusandara village says he was alerted by locals at around midnight of an elephant attack.

They mobilized the residents who discovered Mbusa's body on Thursday covered with maize stems.

Bangaowabo says the wild animals have devoured crop gardens causing food insecurity and starvation in the in households.

Cosma Byaruhanga says that the human-wildlife conflicts in the area have become unbearable because all the remedies devised to safeguard the communities have not yielded results.

These included members of the community making patrols to repel their attacks.

He says it is only an electric fence that can eliminate this conflict.

Robert Bitariho LC1 chairperson Kabaka village says for decades' wild animals especially elephants have attacked and killed some residents neighbouring the park.

He adds that the area needs to be fenced and the area UWA ranger post be given more man power to increase its response to community calls.

Erikanjeru Byakaboinwoha from Tweyambe village wonders what happened to the electric fencing program that was supposed to reach the area.

The farmer says he has personally lost over 5 acres of maize to elephants in the last season.

Saturday Twinomujuni says elephant attacks have become common during the dry spell as they the animals look for food and water.

He also says the UWA ranger post in the area lack enough human resources to cover over 5 miles along the sub county.

Geoffrey Dembe Kasozi the area councilor blames UWA authorities of paying little attention to the trails of wildlife catastrophes in the sub county.

He adds that though they were engaged in discussing the new wildlife law they are yet to know when it will start to be operationalised.

Ezra Turyahabwe the sub county chairperson is concerned that if nothing is done more human lives will be lost.

Joan Kitalibara, the deceased's son wants UWA to compensate the family.

UWA is erecting an electric fence on the 21 Kilometer stretch on the Kasese-Kikorongo stretch along Queen Elizabeth National Park.

However since January last year the work has been on a slow pace.

But the UWA public relations officer Bashir says that the exercise was affected by the covid-19 lock down and some financial constraints after Space for Giants, one of funders pulled out of the project.

However, he says they are mapping out hot spot areas so that they are given priority.



Do you want to share a story, comment or opinion regarding this story or others, Email us at newsdayuganda@gmail.com Tel/WhatsApp........0726054858