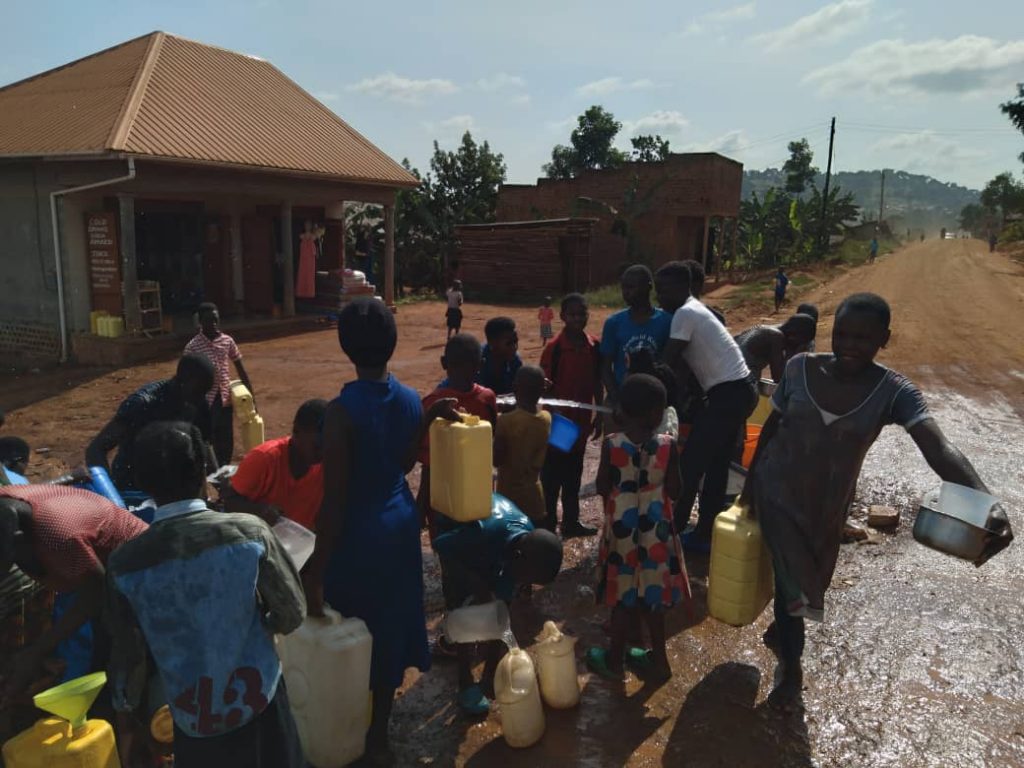 The unreliable water supply in parts of the country has exposed the inefficiency of National Water and Sewerage Corporation (NWSC) with many households now opting for underground wells.
But ridiculously, on Tuesday, NWSC said it will in six months seek to understand why more than 100,000 customers have quit the water supply system and added that quitting customers, went with Shs23b in unpaid bills.
In Kasangati town council in Wakiso district many residents have been forced dig their own underground wells. A number of residents interviewed say that they often go for several months without water supply from the National Water and Sewerage Corporation-NWSC.

In many other villages of Wakiso along Mityana Road, Sentema Road, Wakiso Town Council residents are suffering and have gone without water for several months.
In Lira, it is at least three weeks without water and many people like elsewhere are making long lines to get some water from alternative sources. Others who have money are hiring trucks which go for between Shs. 140.000 to Shs. 250.000.
Yet some water consumers have complained about high bills coming in even amidst the lack of water.
"Last month I got a bill of 175,000 and I paid 195000. This bill being cost for two months usage which is unacceptable to me. Within a few days another 40,000 bill brought," one user in Wakiso complained.
He added "there's need also to know the frequency by which these meter readers come in the field to take meter readings. If it is always at exactly the end of the month it would be ok. We need value for money as much as NWSC is in need of revenue collections."
In Wakiso, branch manager for Bulenga Ms. Peace Kobusingye apologized to customers saying the operation is facing.
"The little that we receive in our network comes with low pressure and can't reach the taps of most of us on raised grounds. But all efforts are being put in place to sort out this situation. Kindly bear with us," she said on Sunday.
To address the problem, several residents now pump water from underground wells in their compounds. They spend between Shillings 2 million and 4 million to sink underground wells and pump water for use in their homes. According to the residents, this is cheaper compared to buying a jerry can of water at Shillings 500.

Solomon Ssesanga, a resident of Kyambogo village, says the water supply from National Water and Sewerage Corporation has been unreliable for many years. According to Ssessanga, he once approached NWSC to understand why the water problem has persisted and was told there is a huge population increase.

Jackeline Namazzi, one of those pumping water from underground, says that she spent a huge sum of money on buying water. She, however, explains that she only needs two units of electricity to pump water for her home and selling to neighbours. Two units cost less than Shillings 1200.

Sarah Kaweesi, a resident of Kabaga in Nangabo Sub County, says she wasn't prepared to incur the expense of sinking an underground well but the situation forced her to do so.

Paul Mbaza says he uses 100 litres every day, which is very costly. He, however, says that because of financial problems he is unable to save money to sink an underground well. Stephen Muwanga Bigere, the LC 1 chairperson Kyambogo Masooli acknowledges the problem of the water challenges in the area. He, however, couldn't tell the number of people who have sunk underground water wells.

"It is difficult to tell the numbers of those with underground water well as you can see a number of them are enclosed. What I can tell you is that it is true people are now opting for underground water and those that are not yet it's just lack of resources "said Bigere.

Samuel Apedel, Senior Public Relations Manager NWSC told URN that they are aware of the water supply problems in Kasangati town council. He attributed the problem to increased demand compared to their current supply.

He explains that they need to supply around 300 million litres of water each day in Kampala metropolitan area but they can only pump 240 million litres, which leaves a deficit of 60 million litres.

He, however, explained that the problem will be addressed once they commission the 160 million litre Katosi water plant is completed. He explained that the construction is complete and they intend to test the plant for a month before it is commissioned.
By URN & Our Reporters.
Do you want to share a story, comment or opinion regarding this story or others, Email us at newsdayuganda@gmail.com Tel/WhatsApp........0726054858