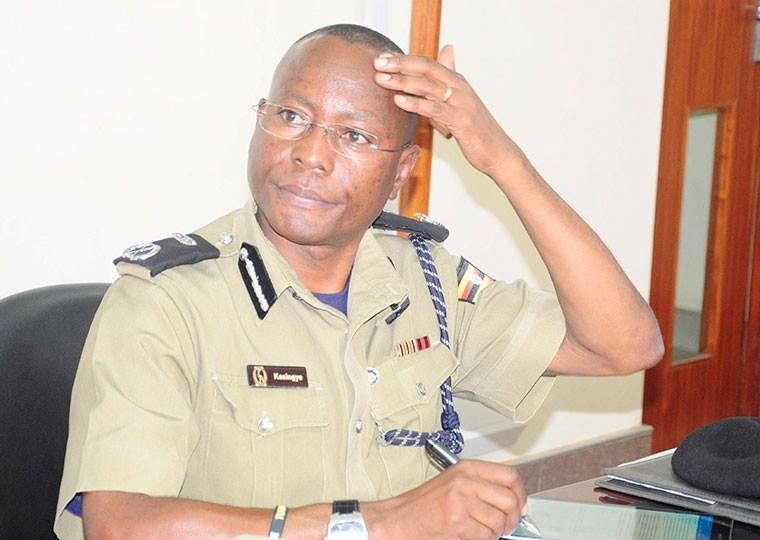 By URN.
KAPCHORWA. Following the alleged increasing incidents of communities "attacking, injuring and killing" police personnel, the force has launched a harmonization campaign.

The force's Chief Political Commissar, Asan Kasingye has started with Kapchorwa district which falls under Siipi region where he intends to understand why communities have resorted to confronting policemen and women during operations to arrest suspected criminals.

Two police officers were killed in Siipi region in Bukwo district in January, when they went to arrest a defilement suspect. Trouble came when one of the police officers fired a bullet and it ended up killing a resident.

The locals ganged up and lynched the two police personnel despite their being armed with guns. This incident follows another where a Uganda Wildlife Authority –UWA game ranger, Samson Dhiwerera, attached to Mt Elgon National Park was lynched.

Dhiwerera's death came when he was called alongside a policeman to capture buffaloes that had strayed from the park. During attempts to scare the buffaloes, Dhiwerera discharged a bullet that accidentally killed 24-year-old Sam Cherop.

Locals encircled Dhiwerera and lynched him. The policeman who had accompanied Dhiwerera identified the attackers and helped police to have them arrested. But the locals turned the anger against the policeman and hacked him to death. His crime was revealing the ranger's killers.

Such incidents are the reason why Police Advisory Committee chaired by Inspector General of Police, Martin Ochola, resolved that the Chief Political Commissariat headed by Kasingye needs to conduct community sensitization.

Kasingye has pitched camp in Sebei and he will later move Karamoja purposely to establish what could be forcing locals to be hostile against police personnel. This will also be a basis of knowing whether police need to adopt a new deployment plan in hostile areas.

In his first meeting on Friday, Kasingye noted that sometimes trouble is caused by corrupt tendencies by policemen and women. Kasingye in his first meeting, has cautioned police officers against any form of corruption in addition to shunning all actions that amount to indiscipline.

"I'm going throughout the country talking to officers about the issue of corruption, like selling of police bond. Service delivery cannot reach the grassroots. We fail to serve with patriotism just because of the cancer of corruption. We must tackle corruption head-on," said Kasingye.

Kasingye has warned police officers that whoever shall be implicated in corrupt related tendencies will be investigated and prosecuted. Police personnel have been urged to put emphasis on understanding community needs and being part and parcel of solving security related problems.

"We are now having a zero tolerance policy on corruption. If anyone has been implicated in issues of bribery and other issues of corruption, we are not going to transfer these officers from one district to another because he was corrupt in the former district, we are going to try our officers and if found culpable, we shall dismiss them from the police," Kasingye said.

From Sebei, Kasingye will proceed to Karamoja where there is cattle rustling which has seen increased bullet exchange between security agencies and rustlers. A number of security personnel and civilians have been wounded or killed in fire exchange since October last year.
Do you want to share a story, comment or opinion regarding this story or others, Email us at newsdayuganda@gmail.com Tel/WhatsApp........0726054858