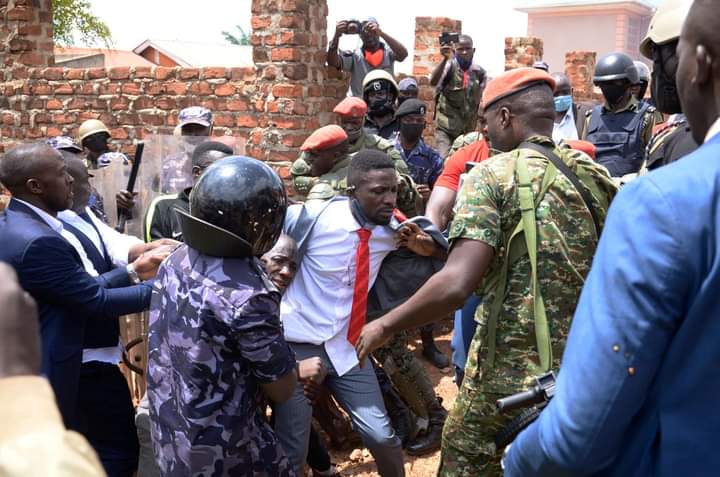 Kampala. The arrest of the National Unity Platform (NUP) leader Bobi on Monday led to a national outrage especially via social media with many Ugandans blaming government of suffocating free speech.
"We are non-violent youth who are fighting for our rights. We are all Ugandans who deserve being treated same way regardless of political ideologies" Bobi Wine as he was being arrested.
Wine had led a peaceful demonstration demanding the release of hundreds his supporters who have been missing since November 2020 when Wine was first arrest for allegedly spreading Covid19.
President Museveni and his National Resistance Movement (NRM) party have consistently accused Wine of breeding anarchy and trying to stop the May 2021 swearing in of Museveni.
But Wine insists that it is Mr. Museveni for whom the electro commission stole "our votes" and we demand public but peaceful protests to regain what deserves Ugandans.
"We won the election but we were not announced. With all the challenges, pain, injustice; we are looking at changing leadership, the election was marred by murders and all form of intimidation," Bobi said in an address on Sunday.
But Mr. Museveni also insisted that "It's Kyagulanyi, the opposition who cheated massively. There was a lot of ballot stuffing in Kampala, in other parts of the country, where we had weak organization, they would start stuffing at 5am."
Quoting Museveni's book 'Misson to freedom" Bobi Wine said that the events today are worse than what Museveni describes in the said book when arbitrary arrests, murders, vote stealing and human rights abuses are the order of the day.
In the book Museveni says that the right to rebellion transcends dictators and despots and that people must abolish despotic to install a safe government
"We are angry, tired, we many, much more than the criminals, we are much young and therefore can move faster. For us to win Museveni we must not be violent. Nonviolence is much more powerful (violent) succeeds but it is costly," Wine said.
"It is a constitutional right and duty for Ugandans to rise up, using everything possible means to restore constitution. Protests are our solution, we know Museveni will respond with violence. We have so far had 230 (since declaration of protests) people arrested and remanded, abduction continue," Wine said.
He said the task ahead is not a ride over but that the regime can't be able to detain all Ugandans.
"It's tough, we might start small but with consistence we will be there. It won't be one day, it may take a week or several months, they can't detain all us. Let's stand together, protest together with discipline," Wine said.
But Museveni said anyone planning to stop the swearing "the security will go for them.
Do you want to share a story, comment or opinion regarding this story or others, Email us at newsdayuganda@gmail.com Tel/WhatsApp........0726054858