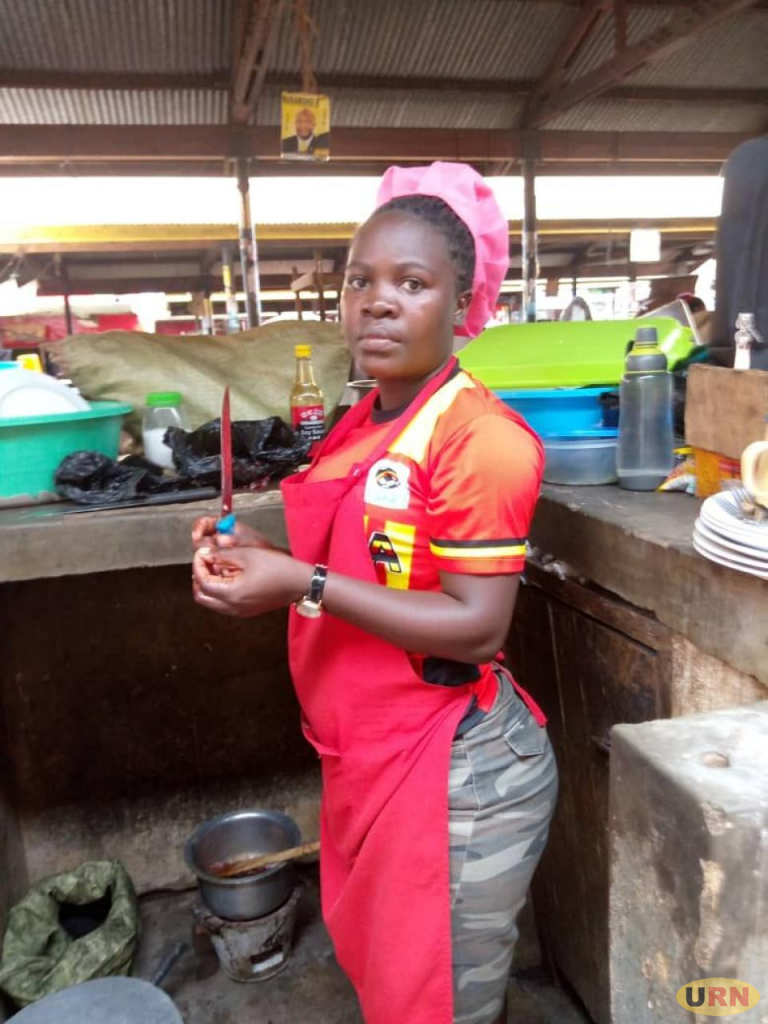 Mary Namuyanja, 25, says she got a phone call on November 23rd, 2020 at around 7:00pm from a friend informing her that unidentified men had picked her husband Martin Lukwago, 32, together with others while they were playing a board game commonly known as "Ludo" in Bugolobi Market.

At first, Namuyanja didn't take this seriously. She thought he would come back. But he did not return. "It wasn't until morning that I realized Lukwago had not come back home and I started searching for him beginning with his friends I knew," she said.

Lukwago was arrested with 10 other people. They were suspected to have participated in the November 18th riots triggered by the arrest of former National Unity Platform (NUP) presidential candidate, Robert Kyagulanyi aka Bobi Wine.

Samuel Rumanyika is among those Lukwago was arrested with. Rumanyika says men in plain clothes came and ambushed them as they were seated in a circle playing "ludo" game at the side of the entrance of Bugoloobi Market.

"We were grabbed and bundled together, handcuffed, thrown into a waiting black car," he said. It was a Toyota Hiace, now infamously known as 'Drone'.

Rumanyika says that the 'Drone' sped off immediately and the unknown men started beating, kicking and stepping on them. He says it seemed they weren't sure of who in particular they wanted so they kept asking for their names until they reached Lukwago.


"When they heard Lukwago speak his name, they started pulling and throwing us out two by two, until the ten were out and they remained only with Lukwago," Rumanyika says.

It was the last time that Lukwago was seen, until today. Lukwago's name does not appear on the list of 177 people released by Minister of Internal Affairs Jeje Odongo last week.

Grace Kirabo, the chairperson of vendors in Bugoloobi market, says Lukwago has been a polite vendor. She says she had never received a complaint about him.

However, Kirabo observes that she knew Lukwago as someone zealous for political change. She does not know if this contributed to his abduction. She also says Lukwago and was active in market politics.

Charles Bakana, Chief Administrator on the Kampala City Coucil Authority -KCCA committee that governs Bugolobi market says Lukwago had joined NUP party and had expressed interest in contesting for Division Council representing Bugolobi Parish. He later reconsidered contesting because of lack of money for nomination and campaign.

Bakana says on November 18th 2020, information circulated within the market that Lukwago was seen taking car tyres and participating in protests calling for the release of Bobi Wine. The market leadership did not investigate this information. Lukwago was kidnapped days later.

Search begins
On the morning of November 24th, 2020, Namuyanja says she went to Bugolobi police station to report a case but the policemen didn't take her serious yet she was sobbing with pain. Police Officers she found started asking if she had had a fight with her husband or if the husband had another wife. Distraught by these questions, she decided to go to Jinja Road Police Station hoping to get assistance. She did not get any help.

Namuyanja opted to start running to media houses telling them about her missing husband. She went to NTV, Daily Monitor, Top TV, among others. In December, a friend also working in Bugolobi market introduced Namuyanja to a person who she said works in Mbuya Barracks.

This person promised to help Namuyanja find her husband if she paid one million. This man who turned out to be a conman took her to a certain building located in one of the areas in Nansana promising her that her husband would be there.

When they reached the building, the man instead abandoned and left her. Namuyanja says she was stranded until a stranger helped her with transport to return home. She refused to reveal the names of the conman or the friend who introduced him to her.

When she tried getting lawyers, they told her that she needs to know where Lukwago is detained and they can start to help, details she didn't have.

Four months after her husband was kidnapped, she says she is struggling to provide food and basic needs for the family. She was forced out of the house worth shillings 250,000 that her husband was paying for at 250,000 Shillings a month and now rents a room of 50,000 Shillings.

She also says she cannot afford to pay fees for the children. Namuyanja appeals to government to stop punishing the family and release her husband.

To raise money, Namuyanja has now started vending food in Bugoloobi market. Her husband used to sell fish in the same market.


After sobbing for a long time in search of her husband, Namuyanja says, "I am tired of crying. I just want my husband back."

URN
Do you want to share a story, comment or opinion regarding this story or others, Email us at newsdayuganda@gmail.com Tel/WhatsApp........0726054858