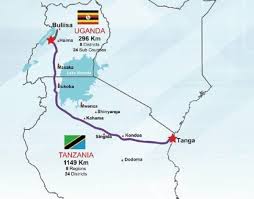 Hoima. The oil and gas development agreements between Uganda-Tanzania and TOTAL SA have set April as the month to sign an understanding following the death of John Pombe Magufuli, former president of Tanzania.

"The launch of the Tilenga Development Project and the East African Oil Pipeline Project which was planned to take place on March 22 has been deferred to April, due to the untimely demise of Dr John Pombe Magufuli", reads a brief statement from the Petroleum Authority of Uganda.

The late Magufuli was due to visit Uganda with his line ministers to sign off the deals on the pipeline company shareholding plan and the crude oil transportation tariff, which were the last remaining issues.
The key milestones in the sector achieved with him included the signing of the Intergovernmental Agreement in 2017 and the initiating of the Tanzania Host Government Agreement. Magufuli has been pushing for the fast-tracking of the pipeline project so that Uganda starts exporting oil by the end of 2023.

In 2016, he made a surprise move to sway Uganda away from a deal that was nearing the conclusion to construct the pipeline through Kenya.
Before the summit, the Ministry of Finance, Planning and Economic Development is supposed to get at least USD130 million ( Shs.48bn) as its commitment to the pipeline project. The pipeline expected to be constructed in 36 months and will run from Hoima in Western Uganda to the Indian Ocean port of Tanga in Tanzania.

The 1,440 km pipeline project is expected to cost USD 3.5 billion and its completion is supposed to coincide with Uganda's readiness to produce oil. Uganda will hold 15 per cent in the pipeline company, while Tanzania holds 5 per cent. Total SA and Chinese oil company CNOOC will own 72 per cent and 8 per cent respectively.

The signing of the agreement will pave the way for the Final Investment Decision.
URN
Do you want to share a story, comment or opinion regarding this story or others, Email us at newsdayuganda@gmail.com Tel/WhatsApp........0726054858