Members of Parliament have told off government that other than praising the good conduct of late Tanzanian president John Magufuli, its time to emulate him in cutting public expenditure and fight corruption.
The legislators were Thursday debating a motion moved by Prime Minister Dr. Ruhakana Rugunda for a resolution of parliament to pay tribute to the late President of the United Republic of Tanzania, John Pombe Joseph Magufuli for his dedicated service to the country and the East African region.

Rugunda says that the late President had a distinguished political career spanning over 26 years and an exemplary public service career of 15 years having served in various capacities both in the public service and in the private sector of the United Republic of Tanzania.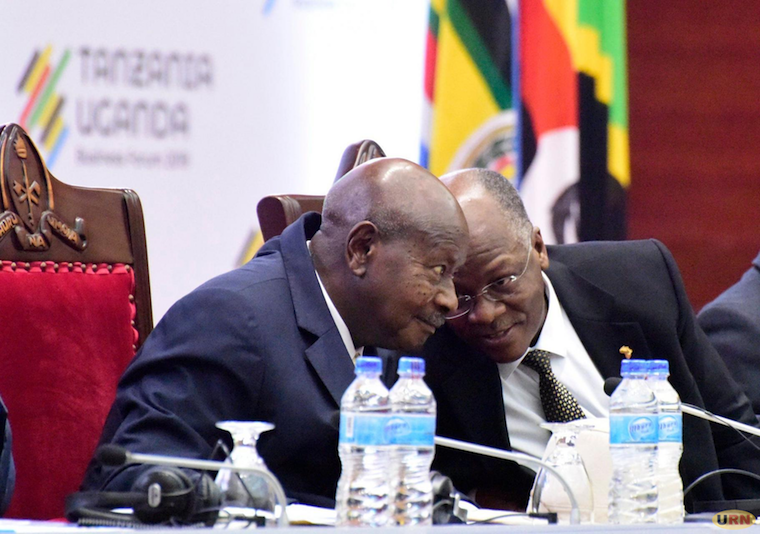 "His Excellency Dr. Magufuli was a diligent leader who with dedication and patriotism contributed to the economic, social and political transformation of the United Republic of Tanzania," said Rugunda.

He added that the late President was instrumental in widening and deepening co-operation among the partner states of the East African Community -EAC for mutual benefit and encouraged projects that brought the people of East Africa together.

Some of the projects cited by Rugunda include fast tracking the implementation of the East African Crude Oil Pipeline and the construction of the Standard Gauge Railway linking various EAC Countries. 

The premier also noted that the fight against corruption, tribalism, greed, laziness, poor service delivery and wastage of government resources were a central pillar of Magufuli's administration.

He said that the late leader redefined the role of the public service, by inculcating hard work and service delivery as a tool for social economic transformation, with the motto of 'Hapa Kazi Tu' which translates as 'work only'.

Betty Aol Ocan, the Leader of Opposition says that the late Magufuli was known for his fight against corruption and misuse of public resources which is a chronic cancer for Africa.

"Magufuli suspended the country's Independence Day festivities for 2015 in favor of a national cleanup campaign to help reduce the spread of cholera. The cost savings were to be invested in improving hospitals and sanitation in the country," Ocan recounted

She said that this and other cost cutting decisions by Magufuli are key lessons to Uganda and other countries in Africa.

Cecilia Ogwal, the Dokolo Woman MP said that Magufuli's past five years of leadership helped Tanzania move from a third world economy to a second world economy.

'We have been singing about moving Uganda to a second world economy… to a second world economy…we have failed but he has given us a solution," says Ogwal.

She said that Uganda needs to check its unnecessary expenditure, corruption and other financial indiscipline in order to move ahead.

Agnes Ameede, the Butebo Woman MP said that in Magufuli, leaders have a lesson to have a vision to take those they lead to progression and that such choices entail sacrifice.

She tasked government to think of the amounts of money that the country can save by avoiding several travels abroad and big national functions so that funds are channeled to more developmental issues.

Micheal Timuzigu, the Kajara County MP says that the passing of Mafuguli is a great loss since he proved to the world that corruption is not a big monster that everyone should run away from it, eat with it or sleep with it in the house.

He adds that it is also challenging that for so many years, Uganda has failed to work on the railway which would reduce on the cost of transporting goods to Mombasa and other areas.

"That comes from efficiency" said Timuzigu. "It is high time we decided to accept that government business is also a business. We get revenue from taxes and we should spend that money well. We should not spend more than we are earning, so that Uganda can be transformed."
Magufuli died on Wednesday 17th March, 2021 at Mzena Hospital in the city of Dar es Salaam, Tanzania following heart complications. Hassan Samia Suluhu, the new President of Tanzania then explained that Magufuli succumbed to a chronic atrial fibrillation-a heart complication before announcing 14-days of mourning with flags flying at half-mast.
Days of mourning and flags flying at half-mast would later be announced by Uganda and Kenya until sunset on the day of Magufuli's funeral.
URN


Do you want to share a story, comment or opinion regarding this story or others, Email us at newsdayuganda@gmail.com Tel/WhatsApp........0726054858