By Musasisi Isaac
Kampala's richest man, Sudhir Ruperellia has been vaccinated of Covid 19.
Ruperellia aged 65 years received his jab from Victoria Hospital in Kampala on Thursday.
He said after taking his jab, he had to be safe and set an example.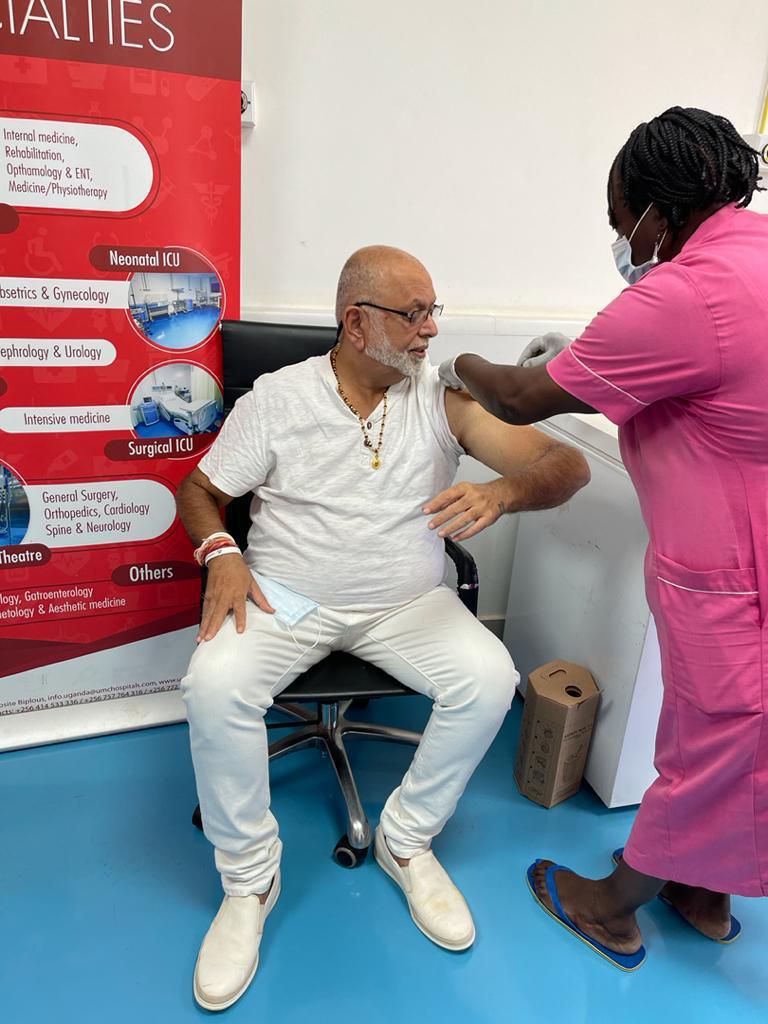 Government rolled out the covid-19 vaccination program to the vulnerable individuals especially those above 50 years. Other groups are the most essential Ugandans such as a selection of defense teams, health frontline workers and teachers among other categories.
Currently the government received almost one million doses that were donated by Covax, a world bank funded program and the government of India.
The vaccine being used in Uganda Astra Zenac. It has been criticized and banned by some nations for allegedly causing blood clots but the World health Organisation insists that the vaccine is safe.
In London on Wednesday, Medicines and Healthcare products Regulatory Agency (MHRA) said the available evidence does not suggest that blood clots in veins1 (venous thromboembolism) are caused by the COVID-19 Vaccine AstraZeneca.
"This follows a detailed review of report cases as well as data from hospital admissions and GP records. This has been confirmed by the Government's independent advisory group, the Commission on Human Medicines, whose expert scientists and clinicians have also reviewed the available data," MHRA said in a statement.
It added that a further detailed review into five UK reports of a very rare and specific type of blood clot in the cerebral veins (sinus vein thrombosis) occurring together with lowered platelets (thrombocytopenia) is ongoing.
"This has been reported in less than 1 in a million people vaccinated so far in the UK and can also occur naturally – a causal association with the vaccine has not been established," MHRA said.
MHRA advised that the benefits of being vaccinated continue to outweigh any risks and that the public should continue to get their vaccine when invited to do so.
"The European Medicines Agency has concluded their review2 and stated that the benefits of vaccination still outweigh the risks despite a possible link to rare cerebral blood clots with low blood platelets," MHR said.
It added there were no confirmed issues related to any batch of vaccine used across Europe, or the rest of the world.
Do you want to share a story, comment or opinion regarding this story or others, Email us at newsdayuganda@gmail.com Tel/WhatsApp........0726054858