A 16- year- old girl is sitting her Primary Leaving Examination- PLE at Serere HC1V after giving birth on Monday night as 749,811 pupils started their two day Exams today countrywide. 

The candidate, whose identity has been withheld because she is a minor, is one of the candidates who registered for PLE in Serere district after conceiving during the COVID-19 lockdown.    

She is among the 6,010 primary seven candidates writing exams in Serere district. After the PLE briefing on Friday, the candidate returned home to prepare for her examinations but developed labour pains over the weekend.     

She was rushed to Serere HC1V and after medical examination, doctors rushed her to the theatre for C- section. According to medics, the minor couldn't push the baby that weighed 4.3 kilograms at birth. 

On Tuesday morning, after consultations with PLE scouts, Serere district education officials resolved to allow the new mother to sit the examination on her hospital bed and was assigned a UNEB supervisor. 

Michael Eregu, the Serere District Education Officer together with Annet Icumar, the District Inspector of Schools, say that they couldn't afford to let the young girl to miss her examination after working hard for it.

Eregu explained that more than 15 girls conceived during the lockdown and gave birth while others are still expectant.
Simon Richard Okurut, the father of the girl commended the effort by the education department to enable his daughter to sit her PLE.

"We lost hope after it emerged that our daughter was pregnant. When the government allowed candidate classes to resume, we were surprised when our daughter told us that she would like to register for exams. We didn't expect her to give birth on exam eve but our daughter is brave", he said.
Okurut revealed that his daughter's defiler fled the village and his whereabouts are unknown to the family.

The Serere District UNEB, Elizabeth Nabukeera Mutumba allowed the girl some extra 15 minutes to enable her complete her first paper on Tuesday morning.

Meanwhile students elsewhere around the country braved a heavy downpour and poor transport to reach their respective schools. Some used water canoes but had no life jackets.
In a press conference in Kampala, the Democratic Spokesperson Okoler Opio Lo Amanu congulaculated the students.
"We celebrate them because they are at least not among the hundreds of thousands that dropped out of school as yet, according to Ministry of Education at least 1 million leaners enroll in primary education however at the end of the 7 year cycle only 600,000 learners sit PLE implying that at least 400,000 learners drop out from lower primary level" Okoler Opio Lo Amanu
At O'level, the number further reduces to 300,000 at Uganda Certificate of Education exams (UCE) which is subsequently reduced to 100,000 at Uganda Advanced Certificate of Education exams(UACE) that gives a clear picture of how the education system in performing.
"There are quite a number of reasons that have escalated the number of school dropouts in Uganda among which is hunger and as we celebrate these few who are sitting PLE, we are alive to the fact that they will do two examination papers everyday for two days but without having lunch, at least the vast majority of candidates which without doubt will affect their performance", Okoler Opio Lo Amanu said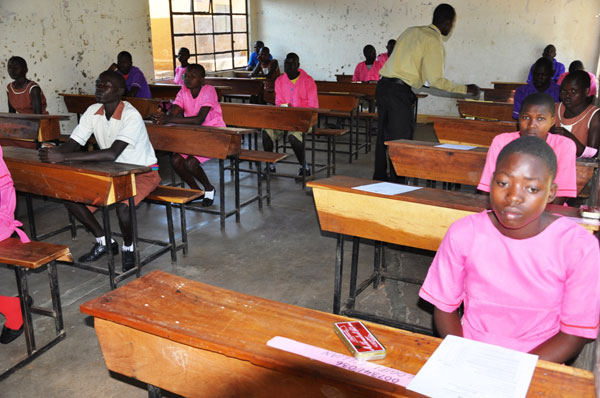 Do you want to share a story, comment or opinion regarding this story or others, Email us at newsdayuganda@gmail.com Tel/WhatsApp........0726054858