GOOD Friday was a dark day for fishermen as the Fisheries Protection Unit-FPU burnt more than 300 fishing nets and 55 boats impounded from various landing sites on Lake George. 
Owners looked on helplessly with some crying as FPU guys lit their fishing equipment. The fishing gear, dubbed by the military as illegal was impounded during various operations to crack down on poor fishing methods in Kasese and Mahyoro landing site in Kitagwenda District.

The operations were also enforcing environmental protection by discouraging depositing of garbage and plastic items into the lake. Capt. Favor Rugumayo, the Public Relations Officer-PRO of the UPDF Marine Brigade Unit said they burnt the boats and nets to account to the public, which has been accusing the force of impounding the items and later allow them back on the water.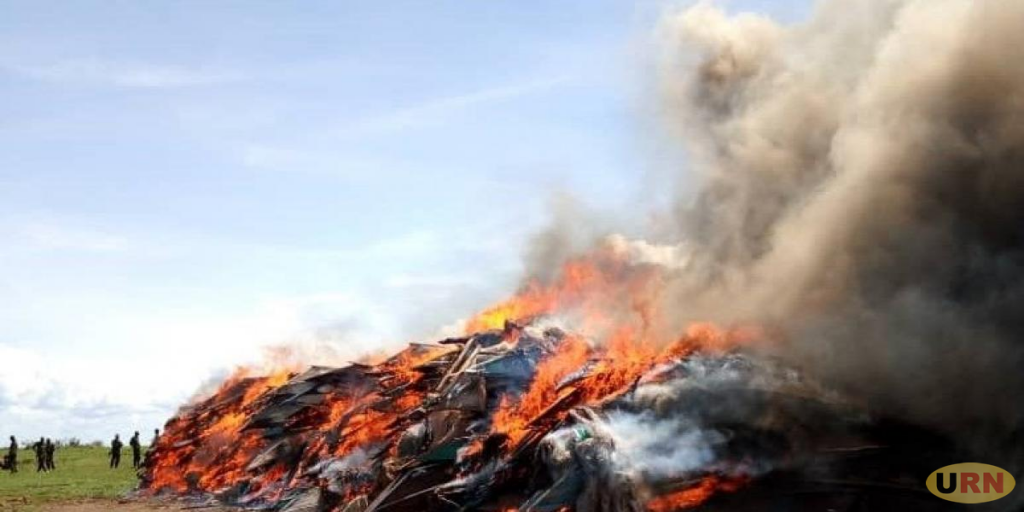 Lt. Col. Dick Kirya Kaija, the head of the FPU said they are working closely with the local management, units to conduct operations with the aim of eliminating illegal gears in the area. Kaija says they are now embarking on awareness campaigns against illegal fishing and reactivating the legal systems to apprehend the culprits.
Hajara Namugabu, the chairperson of the Mahyoro landing site says that they have been partnering with FPU to impound illegal fishing gears.

Michael Rugumayo, another fisherman acknowledges that the reducing water levels of the lake is a clear indication of environmental degradation. However, he says most people around the lake have no alternative sources of incomes and are forced to spend their entire time on the lake.

Since its creation more than three years ago, FPU heads says their operations have led to increased fish stocks from 30 per cent to 70 per cent. More than 50,000 illegal boats have been destroyed, tons of illegal nets burnt and more than 2,000 fishermen arrested and taken to courts of law.

The Ministry of Agriculture also posted Shs.3bn as revenue in 2019 from 800m they collected in 2018. However, the FPU operations have occasionally been questioned for being high handed. Legislators representing fishing communities in 2019 called for the withdrawal of the unit on grounds of brutality. But the force retaliated saying they can only leave under the orders of the president.
Do you want to share a story, comment or opinion regarding this story or others, Email us at newsdayuganda@gmail.com Tel/WhatsApp........0726054858