By Gideon Kisembo
Katikkiro Charles Peter Mayiga has once again defended his unending Kasubi tombs reconstruction project and lambasted those who think that he has failed to finish the works.
Mayiga was Sunday addressing mourners who attended the burial of Prince Arnold Ssimbwa within the perimeters of the tombs.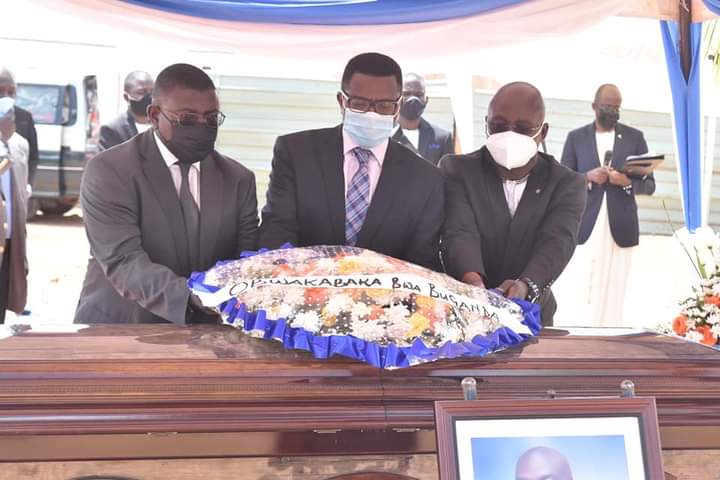 "You are saying I speak a lot but I have failed to rebuild the tombs. All of you here, are seeing this structure-Muzibu Azaalampanga (main house where kings are buried). It is covered with canvass. I know you have already taken images and shared them on internet," Mayiga said.
He said the structure is covered with canvass sheets to avoid rotting to the reeds being used to weave the ceiling.
"It's a lot of work, requiring a lot of expertise, a lot of money. Some of you think that constructing tombs is like building an arcade. Below that canvass is immense work. You can't imagine how much work there is. A lot of work," Mayiga said.
He said that his team is working tirelessly to complete the tombs and to confirm this, even during the peak of Covid19 in 2020, employees who are working on the tombs remained at the site.
Reconstruction of the tombs is now in the 11th years with many complaints of flouting cultural norms and financial misappropriation as causes of the delayed works.
In May 2017 as he has done on many other occasions Mr Mayiga reported to the Lukiiko that works on the tombs were on-going, with two thirds of the ceiling done. In the 2018 end of year speech, Kabaka directed that the tombs should be complete at the start of 2019.
By 2019, according to official accounts provided in November 2019, Katikkiro Charles Peter Mayiga said that Shs.6bn had been used. Government had contributed Shs.2.3bn. Shs.4bn was raised by the kingdom. The perimeter wall alone was constructed at Shs.2.5bn. Other works took the rest of the money.
The Japanese government promised USD.500.000 through UNESCO and this will buy firefighting equipment.
It is reported that Kasubi tombs during JB Walusimbi tenure had been planned to consume Shs. 3.5bn budget.
The Kingdom is still in a dispute with the initial contractor of the tombs, Omega Construction Ltd over a disputed Shs2.3b debt.
Kasubi tombs caught fire on March 16, 2010, just nine years after the facility was declared a world heritage facility by Unesco.
The tombs was initiated by Ssekabaka [the late] Mukaabya Walugembe Muteesa I in 1856.
Do you want to share a story, comment or opinion regarding this story or others, Email us at newsdayuganda@gmail.com Tel/WhatsApp........0726054858