By Okoler Opio Lo Amanu
PALLISA-UGANDA/NEWSDAY: Today June 26, we have sent off a member of the Seventh Day Adventist (SDA) Church and also a brother in law of our family in Osupa village, Pallisa Town Council in Pallisa District who succumbed to COVID-19 last night.
Muko Samwiri would be living if we had an oxygen facility in Pallisa General Hospital. But because the health workers were unable to help without oxygen they referred him to Soroti Regional Referral Hospital, a distance that takes averagely one hour to drive. The ambulance wasn't available either. And Muko died but a very painful death.
Just yesterday, I had visited Pallisa General Hospital to ascertain how prepared they were as a facility to handle COVID 19 Patients. I got troubled to learn that though with a ward earmarked for COVID 19 patients, there was not even one and yet Pallisa district has registered over 210 cases with at least 10 deaths.
On inquiring to know why it so happened, one employee of the Hospital who preferred anonymity told me that they lacked Personal Protective equipment (PPE) to safe guard the health workers and subsequently the patients suffering from other illnesses to contract COVID-19.
Therefore whoever that tested positive of COVID-19 was sent back to their communities which is, in my opinion, not only a ticket to death but also exposes the community members to the pandemic since majority dwellers are naive about how to safely manage COVID-19 patients.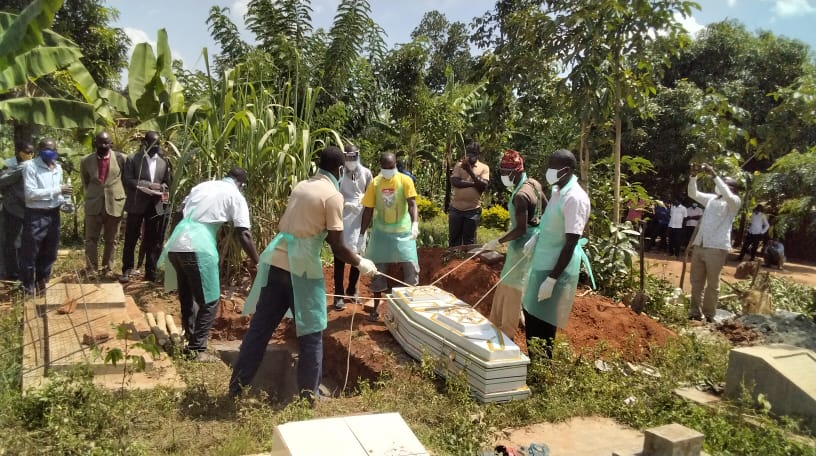 When I inquired further to establish whether or not the health workers pay home visits to their home referrals, I was told that they have a challenge of transport unfortunately, thus, causing an inadequacy in their visits.
The photograph above is the COVID-19 burial team of Pallisa district and the polythene bags placed around their bodies form the protection gears, that is all they have. It is called improvising, this in essence exhibits the level of preparedness at which Uganda sits as a country to manage the situation in regard to the prevention of the spread, management and burials accruing from COVID-19 cases.
This team by the way is from Pallisa General Hospital, we wish to appreciate them for the efforts and creativity of improvising however government should immediately furnish them with enough PPEs to ensure their safety and that of the community members.
This level of unpreparedness and recklessness in managing COVID-19 on the part of government killed my muko. Had the hospital had oxygen he would still be breathing.
The negligence on the part of government which continues to collect taxes without setting up a robust health system to provide quality health care to Ugandans has killed him Muko.
Cognizant of the many cases of this nature happening in Uganda, I decided to bring it to the light of the world.
May God comfort the bereaved persons including those whose loved ones died under similar and or related circumstances?
Okoler Opio Lo Amanu is the DP Spokesperson
Do you want to share a story, comment or opinion regarding this story or others, Email us at newsdayuganda@gmail.com Tel/WhatsApp........0726054858