MUKONO-UGANDA/NEWSDAY: State House Anti-corruption Unit (SH-ACU) and the Uganda Police Force have arraigned another alleged fraudulent lawyer, and four other in court over land fraud.
Lawyer Kenneth Nsubuga Sebagayunga and his alleged accomplices Hakim Bigomba, Zahura Shamim and Musa Lukungu were charged at Mukono Magistrates Court on Thursday for fraudulent procurement of a land title, forgery, uttering a false document and conspiracy to commit a felony.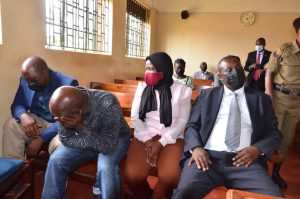 SH-ACU arrested the accused after alerts of forging documents for purchase of 28-arce land in Mukono. The said land belongs to the family of the late Sarah Mulira. The suspects and others still at large allegedly committed the offence on 11/8/2021.
Early last month, SH-ACU arraigned another embattled Kampala lawyer, Mr Lukungu Musa, who was alleged to be the master minder of the theft of Sh.1 billion from Tropical bank. He was charged with conspiracy to defraud just days in that same month when he had been accused of using his law firm and reportedly initiated a fictitious suit in the commercial court against Opio George claiming that he had sold plot 257, Block 917 to them in Munyonyo but had refused to hand over the land title.
During the investigations it was understood that Sarah Rosemary Mulira died in June 2020 and left property among them Block 191 plot 275 Kyagwe land at Gwanya, Kinga, Kapeke in Mukono and Nsike Ndeeba.
On 11/8/2020 the suspects Namuddu Harriet Kibuuka, John Brian Menya and Arthur Mwime fraudulently transferred the above land of Mukono into their names.
They wanted to use it to secure a loan of 4Billion from Legacy Credit Ltd. The institution sent a surveyor to open boundaries of the land and the relatives of the late discovered the fraud.
The suspects presented a purported sales agreement allegedly signed by Sarah Mulira but the signature was found to be forged.
They claimed to have paid 800,000 USD at once to the late at Mukono and later paid instalments to make a Total of USD 1,534,246.
The suspects allegedly connived with a Lawyer Keneth Nsubuga Sebagayunga of Mukono to make the agreement and backdated it.
The agreement was witnessed by Gastavas Kiwanuka for the vendor yet he is a boyfriend to the suspect Namuddu.
Joel Mukasa and Jovan Mukuumi witnessed for the suspects on the said forged agreement.
On the other hand, the suspects created another person Hakim Bigomba who also claimed to have purchased 8 acres of land out of the same land from the same late Sarah Mulira in February 2021.
He also claimed to have paid Shs. 800,000,000/= to Sarah Mulira at Mukono.
He also connived with a Lawyer Zahura Shamim of Mukono to make the purported sales agreement which similary have a forged signature of the late Sarah Mulira.
The suspects have never held accounts with money close to the sums claimed to have been paid to Sarah Mulira.
Hakim Bigomba and Zahura Shamim sued the first suspects in Mukono High Court for purposes of entering a consent Judgment to use court to legalize their fraud.
Another Lawyer Lukungu connived with the suspects to pursue court process and was on the same piece of land when they claimed to be owners.
The suspects were released on bail.
Correction
Our initial version indicated the suspects had been remanded yet they were actually bailed.
Do you want to share a story, comment or opinion regarding this story or others, Email us at newsdayuganda@gmail.com Tel/WhatsApp........0726054858