BY URN
KAMPALA-UGANDA/NEWSDAY: The minister for Karamoja Affairs Mary Gorreti Kitutu Kimono has been remanded to Luzira prison over loss of public property, corruption, and conspiracy to defraud the government.
Kitutu was arraigned before the Anti-Corruption court presided over by chief magistrate Joan Achiro on Thursday. Kitutu was remanded alongside her brother, Michael Naboya Kitutu.
According to the charge sheet, Kitutu allegedly caused a loss of public property between June 2022 and January 2023 by diverting 14,500 pre-painted iron sheets intended for the Karamoja Community Empowerment Program to her own benefit and that of third parties.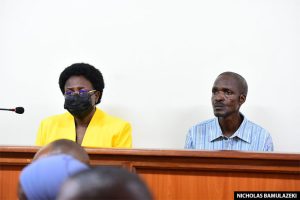 It is also alleged that at the same time, her co-accused Naboya, a peasant farmer and a resident of Bukhawekha sub-county, Namisindwa district received 100 iron sheets yet they were stolen property.
The two are implicated alongside Joshua Abaho, a senior assistant secretary at the ministry of Karamoja Affairs under the Office of the Prime Minister (OPM) who did not appear in court. Court has now issued a criminal summons against Abaho.
However, they denied the charges. Her lawyers; Jude Byamukama and Michael Wamasebu applied for bail on grounds that Kitutu is a Ugandan citizen aged 61 and therefore of advanced age and that she is a very prominent person having served in many respectful offices as a state minister and now a cabinet minister.
The court also heard that Kitutu is a very decorated scientist and academician with a fixed place of abode in Bunga, Makindye Division married to Michael George Kitutu an accountant with whom they have been married since June 4, 1988, and a mother of seven children and also a grandmother of seven.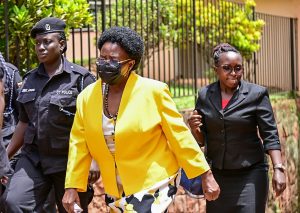 According to Wamasebu, Kitutu also owns property within court jurisdiction including two pieces of land in form of a private mile in Wakiso district and he submitted two copies of the land titles before the court. Court also heard that Kitutu has a medical condition, hypertensive heart disease with left ventricle stiffness (HHDD) which was diagnosed on March 15 this year by Dr Charles Sendikadiwa of Mulago National Referral hospital.
Court was also told that in the two days, Kitutu has spent in custody, her condition has worsened yet it is a threatening heart condition especially when she is under stress.
"Your honour, one of our colleagues Bob Kasango had the same condition, he applied for bail, it was denied and he died in Luzira prison", Wamasebu told court.
Wamasebu presented to the court Kitutu's sureties including her husband Michael George Kitutu a self-employed man with an interest in real estate, former MP Simon Mulongo who is currently a diplomat and special envoy to the African Union, Seth Wambede Mbale City Northern Division MP and Dr Joel Wanabwa, a plastic surgeon attached to Kiruddu hospital.
However, assistant DPP Namatovu objected to the bail application relying on an affidavit sworn by detective Muhammad Soweti, one of the investigating officers.
Namatovu noted that inquiries are still ongoing and therefore Kitutu was likely to interfere with prosecution witnesses once released. Namatovu told court that Kitutu did that by stopping and obstructing her mother Contilda Kitutu from recording a statement yet some of the exhibits, in the case were recovered from Contilda's house.
According to Namatovu, the sureties presented do not meet the requirements for the release on bail in a case of such scale because the nature of accusations against Kitutu reflects the loss of public property which is a serious offence that attracts a maximum sentence of ten years imprisonment once found guilty.
Achiro remanded the two until April 12, because it was late and the state wanted more time to verify the documents presented by sureties and the authenticity of the two land titles presented by the minister.
Do you want to share a story, comment or opinion regarding this story or others, Email us at newsdayuganda@gmail.com Tel/WhatsApp........0726054858