BY INDEPENDENT.
RUSSIA. The second Russia-Africa Summit in St Petersburg's Expo Forum from July 27-28 was expected to be the next big event in the scramble between Russia and America for the attention, resources, and international alignment of Africa.
Past summits involving African heads of state in Russia, USA, China, and even Turkey have turned-out as roll calls of "who is with us" and "who is against us." It did not disappoint.
African leaders usually buy goodwill by showing up at events like the Russia-Africa Summit, the Forum on China-Africa Cooperation (FOCAC), Japan's TICAD, the US-Africa Leaders' Summit, and the Turkey-Africa Summit.
This time, however, only 16 African leaders attended, less than half of the 43 who attended the first Russia Africa summit in 2019.
Russian President Vladimir Putin's press secretary, Dmitry Peskov, blamed U.S. sabotage for the low attendance.
"This is absolutely blatant, brazen interference by the United States, France and other states through their diplomatic missions in African countries and their attempts to put pressure on the leadership of these countries in order to prevent their active participation in the forum."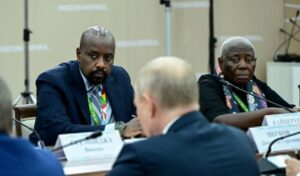 President Yoweri Museveni is one of 16 out of the leaders of 54 African states who attended. He was there with, among others, the president of South Africa, Cyril Ramaphosa, Emmerson Mnangagwa of Zimbabwe and Egypt's Fattah al Sisi.
President Museveni travelled to St Petersburg with his son and military advisor, Gen. Muhoozi Kainerugaba and a delegation including the Minister of Foreign Affairs, Gen. Hajj Abubakar Jeje Odongo. The delegation was an indication that weapons and arms were on Museveni's mind during preparations for the trip.
In a tweet about the trip, however, Museveni said he had called on Russia to "take interest in a number of business opportunities in fields of oil and gas, agriculture, production, the pathogenic economy, industry and space science." Museveni also gave some hints about his meeting with Putin on July 27 on the sidelines of the Summit.
"My main proposition to Russia is that they discourage, by policy, the importation of raw materials from Africa and instead work with Africans to add value to their raw materials at source," President Museveni said on Twitter.
Speaking on the first day of the summit, Putin pledged to replace Ukrainian grain exports blocked by his decision to abandon the UN-brokered arrangement which had allowed the export of grain and other products from Ukraine through the Black Sea to markets, including in Africa. He said Russia was providing Burkina Faso, Zimbabwe, Mali, Somalia, the Central African Republic and Eritrea with 25,000-50,000 tonnes of grain free of charge.
Tough decision
Attending or not attending a continental summit with a global power such as Russia, the U.S. or China could have serious consequences for poor African countries facing mega downside risks to their economies because of the year-long Russia war with Ukraine, lingering COVID-19 pandemic induced supply chain disruptions, tightening global financing conditions, and heavy debt.
That could explain why, for example, President Museveni also ended five years of shunning of events in the U.S, including the annual UN General Assembly Meetings in New York, to attend the US-Africa Leaders Summit that President Joe Biden hosted in December 2022. Staying away could possibly have branded Museveni as anti-America or pro-Russia.
African countries seeking trade and development finance must integrate into world markets that are dominated by the West, according to the Brookings institute. At the same time, African states seeking arms and other means of suppressing dissent at home must look eastward.
In this relationship, Russia is increasingly being seen as a wingman for China which has overtaken the U.S. as the main source of FDI for Africa in 2013. China contributes 18% of FDI to Africa and Russia contributes less than 1% and its touted grain sales to Africa are critical for just five countries; Algeria, Egypt, Libya, Morocco, and Tunisia.
But China and Russia represent the same thing in the eyes of African leaders; less lecture and more tangible benefits of development finance, grains, and arms.
To its tangible offers, Russia adds intangible outsized political influence that derives from historical political support among the older anti-colonial veteran African leaders and its current control of the trade in arms and warfare technologies to African states.
Ensuring a record attendance of the Russia-Africa summit by African heads of state and government has been a major drive for Russia at a time when America's ploys to isolate it over the Ukraine war has intensified.
Majority of African leaders had confirmed attendance but recent events in Moscow hung like darkness at noon over the summit.
President Putin suffered a brief challenge to his long grip on power when the Wagner Group mercenary leader, Yevgeny Prigozhin, on Friday June 23, began a march on Moscow in what has been described as an attempted coup.
The mercenary leader's march was quickly halted without a fight but questions it raised remained; especially about the long term stability of Putin's regime and Russia's ambition to be a geopolitical counterforce to America.
"We've seen more cracks emerge in the Russian façade," said U.S Secretary of State Anthony Blinken to journalists. He said the episode was "the latest chapter in a book of failure that Putin has written for himself and for Russia."
No senior official of a government on the African continent, where Russia is influential, commented on the Prigozhin event but it came at a momentous month for international relations between Africa, Russia, and America.
With President Putin weakened, it's not clear how many African leaders eventually failed to make the trip to St. Petersburg because Putin was unlikely to offer them much in the way of trade, development finance or even arms.
The decision was complicated because African leaders could not lightly snub an empty-handed Putin because President Joe Biden is equally not offering much. Biden is more focused on containing a rising China and lacks a coherent message for Africa as seen when U.S. Vice President Kamala Harris visited. African leaders did not cheer Harris who carried the same old message of aid, democracy and human rights yet African leaders were seeking food, trade, and respect.
South African President Cyril Ramaphosa has been pushing for a change to this aid for Africa agenda and message from America and the West since he became president in 2018.
"Africa should never be seen as a continent that needs generosity, we want to be treated as equals," he said again while emphasizing the importance of peace, investment and equitable partnerships at the Paris Climate and Finance Summit of world leaders on June 23.
That could explain why Ramaphosa led a delegation of leaders from Africa on a peace mission to the warring capitals of Russia and Ukraine in mid-June. They possibly saw an opportunity to once-again highlight the continent's emerging geo-strategic influence.
Since their return to the continent, leader of the mission, South African President Cyril Ramaphosa, has said the June 16-17 trip was a success because it is "the first time African leaders embarked on a peace mission 'beyond the shores of the continent.'"
The delegation included Presidents Hakainde Hichilema of Zambia, Azali Assoumani of the Comoros who is Chairperson of the African Union, and Macky Sall of Senegal. Others were Prime Minister Mostafa Mabdouli of Egypt, Minister of State and Director of the Cabinet of Congo, Florent Ntsiba, and Special Envoy of the President of Uganda for Special Duties, Dr. Ruhakana Rugunda.
South Africa's Ramaphosa is considered very much a stalwart of Russian President Vladimir Putin together with President Museveni who was listed for the trip but pulled out at the last minute due to ill-health. The others on the trip who are expected to attend the Russia-Africa Summit are Zambia, Egypt, Comoros, Senegal, and Congo are considered either pro-West or neutral.
When Russian Foreign Minister, Sergei Lavrov, first announced Moscow's support for the African diplomatic initiative, he was at a press conference in Uganda on May 18, 2023.
Lavrov said: "We are open, as I have said many times, to any serious and engaged proposals from any state." Then he spoke of "fond memories" of his visit to Uganda in July 2022 and the fruitful talks with President Yoweri Museveni.
"We consider the development of bilateral partnership, which stretches back several decades, to be a priority," he said, "We hope that President Yoweri Museveni will attend the second Russia-Africa Summit."
Non-alignment agenda
Controversial businessman Jean-Yves Ollivier, the 78-year old founder and head of the Brazzaville Foundation who arranged the mission, noted that in the Russia-Ukraine war, African countries are facing "a lot of pressure, from either the Russians or Americans, sometimes both, to pick sides."
"The best way for Africa to get out of that is to play the role they are trying to play," Ollivier told Newsweek magazine in May. "Mr. Jacques", as Jean-Yves Ollivier is known, has deep and widespread tentacles in several African countries, China, Russia, Ukraine, and France. He has been on the international diplomatic circuit for decades and always offers deep insights.
In this case, Ollivier was referencing how African leaders being courted by both Russia and the U.S sat on the fence when the UN General Assembly became a battle field of East versus West geopolitics in 2022 over a resolution condemning Russia's invasion of Ukraine. In the end, the resolution was supported by 141 UN member states but 25 abstained.
Then when the General Assembly voted to expel Russia from the Human Rights Council, 24 member states voted against and 58 abstained. Among the abstentions were influential African nations like South Africa, Nigeria, Egypt, and Uganda.
African leaders are once again likely to pull their weight at another important upcoming international event; the January 2024 summit of heads of state and government of the Non-Aligned Movement (NAM) slated for Kampala. It is not clear if U.S. President Biden will have visited the African continent by then as he teased during the U.S-Africa Leaders Summit.
The NAM, which is over 50% African, has recently regained significance after years of purposeless flounder since the Cold War ended in 1991 and America emerged as a unipolar superpower.
The 78-year old Museveni, who has been president of Uganda for 37 years and is set to assume the chair of the NAM from December 2023-26, is the archetypal non-aligned leader of the pre-1991 East-West cold war era. He refuses to be lumped with either West or East.
"I am pro-myself. And I deal with other people according to how they relate with my own interest," he says.
But African leaders appear aware that they are walking a tightrope between snubbing America and suffering economic sanctions or popularizing their free agent ambitions and allowing to be courted by Russia, and China. They recognise they will not have an easy time playing the East against the West and avoid getting sucked into the super power rivalry similar to the pre-1991 cold war era.
By condemning Western sanctions against Russia and attempting to rally an African audience for Zelenskyy, President Sall of Senegal, for example, has been described as "showing blatant false naivety" by Paul-Simon Handy, a researcher at the Institute for Security Studies in Paris.
Slavoj Žižek, the Professor of Philosophy at the European Graduate School has dubbed such posturing as "an obvious dodge."
"Those who would claim neutrality forfeit their standing to complain about the horrors of colonization anywhere," he wrote in a recent Project Syndicate article. According to Prof. Slavoj Žižek and others, Africa must choose to get either Russian guns or American lectures.
Do you want to share a story, comment or opinion regarding this story or others, Email us at newsdayuganda@gmail.com Tel/WhatsApp........0726054858