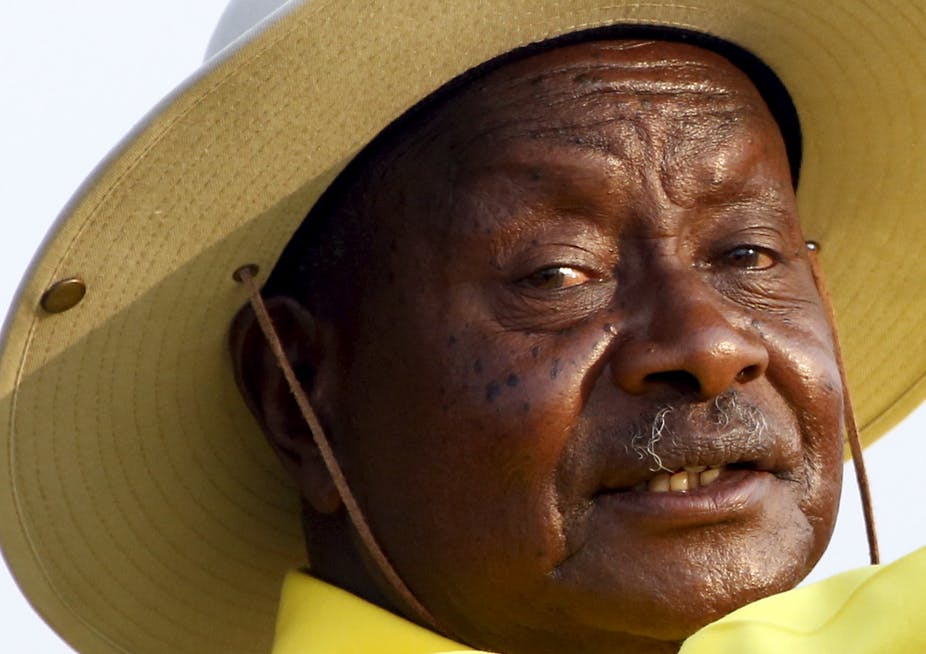 Kampala. President Yoweri Museveni and his political nemesis Robert Kyagulanyi will fight for audience of the 41 million Ugandans tonight. The two are set for dueling national addresses, at 8;00 pm this evening.

Two days ago, presidential press secretary Don Wanyama announced that president Museveni would be addressing the country on matters of national interest.

"Kind reminder good people; the President will address the country this evening, 8pm. Catch him on any TV or radio," Wanyama posted on his twitter handle this afternoon reminding Ugandans of the address.

Former presidential candidate Robert Kyagulanyi has also scheduled his address at the same time. Kyagulanyi who claims to have won the January polls had scheduled an address on Friday evening which didn't take place due to 'disruption of the internet and sudden power cuts'.

On Friday, Bobi Wine, who called for a nation-wide peaceful protest over his allegedly stolen victory, said he was going to address the nation using his Facebook account. It should be noted that Facebook is still blocked in Uganda and a those using the platform are accessing it through Virtual Private Network applications.

Official figures show that over 250 radio stations and over 30 TV stations operate in Uganda. The 2014 Population Census figures showed that 55 percent of the population of 34.4 million Ugandans accessed information by radio, followed by internet at 7.3 percent 7.2 percent through TV.

But 2018 figures showed that 18 million people subscribe to the internet. Of these, 3 million had Facebook accounts. The mainstream TVs also stream on Facebook.As such, there will be a big fight for the different audiences tonight. Now, some residents of Kampala, say they will not watch either addresses because they will be rushing home to avoid being arrested during curfew.

Others have however said they will watch one of the two addresses while some say they will watch both addresses.

However, some people doubt whether they will be able to concentrate as the both leaders make their addresses. As a result, they will listen to or watch the person who will meet their expectations within the first twenty minutes.

"If Museveni says bars will open or curfew is lifted by 8:20pm, then I'll stick with him. But if he doesn't, I'll watch Bobi," Ivan Kalungi says. Kalungi is a boda boda cyclist in Kamwokya, Kampala.

Sarah N. says she will watch Kyagulanyi and expects him to give people a message of hope.

Joseph Mulindwa, however says Kyagulanyi should reschedule his address so that he can give a more effective rebuttal to Museveni's address.


Meanwhile, a cross section of Ugandans is urging Museveni to open bars, theatres and also lift curfew in his address tonight.

The entertainment sector has remained closed since the initial lockdown imposed to curb the spread of coronavirus disease. The government argued that these businesses are linked with large audiences and live performances. Government argued that implementation of standard operating procedures could be difficult and yet infections occur mainly through exposure to respiratory droplets when a person is in close contact with someone who has COVID-19.

Operators and individuals in the affected sectors have been urging the government to lift restrictions and pledge to adhere to the SOPs.

But last month, Museveni said the Ministry of Health was still carrying out studies before they eventually come up with recommendations on how the sector can be reopened, despite the risks involved.

However, some of the affected businesses and sectors have been operating behind closed doors. They include City Bar, Pentagon, Washington D.C, Skype Club in Soroti and Casablanca, De hive, Fish pond, Labamba, and Resort bars in Mukono.

Last month, we established that some of the bars including Icon Bar and Gates Bar in Kitgum, that have been openly operating are owned by security personnel attached to the President's Office and Uganda People's Defence Force-UPDF.

But, like 54- year-old Lawrence Kiwanuka, many citizens want the president to open up all sectors, to lift the curfew or revise the hours to start from mid night to 5am and then reopen all schools, instead of the staggered reporting of classes.

Some citizens expect Museveni to also address security matters, particularly complaints that several people remain missing. Most of the missing people are linked to the National Unity Platform-NUP opposition party.
Meanwhile, Kiwanuka who is also a truck driver expects Museveni to explain how the government will help businesses recover from the lockdown and negative impact of the pandemic.

He says that currently, many Ugandans, like himself, can hardly make ends meet.

Before the outbreak of Covid-19, Kiwanuka says he was able to save a minimum of shillings 500,000 every month because businesses were operating smoothly and clients also had money to spend on transportation of their goods from various parts of the country.

But nowadays, he earns only what can buy food.

URN
Do you want to share a story, comment or opinion regarding this story or others, Email us at newsdayuganda@gmail.com Tel/WhatsApp........0726054858