Youth under their umbrella of concerned citizens have launched a fundraising drive to raise a statue at the High Court in Kampala to honor Justice Esther Kisakye, for openly disagreeing with Chief Judge Owiny Dollo in the Bobi Wine Presidential elections petition.
"It was a heroic and brave action of Justice Esther Kisakye who rose against all odds to deliver her dissenting ruling in the case of Robert Kyagulanyi versus Yoweri Tibuhaburwa, the Electoral Commission, and the Attorney General," Dr Mirembe Joel coordinator for the group has said in a press conference in Kampala.
He added; "We, the oppressed Ugandans, applaud and express solidarity with Justice Kisakye for standing bold for the truth, constitutionalism, and rule of law. This is despite attempts to intimidate and gag her".
On the 18th March 2021, Kisakye rose delivered her dissenting ruling in the case in Election Petition No. 1 of 2021.
Justice r Kisakye stated that she felt it was her Constitutional duty to disobey the unlawful orders of the Chief Justice and fulfill her duty as a member of the Supreme Court Quorum to deliver her decision within the 45 days required under the Constitution.
Her office was locked and files, confiscated while and electricity was switched off within the court premises.
"All these "barbaric" actions under the instruction of Chief Justice Owinyi Dollo further expose the general break down of the rule of law in the country,"Dr. MIrembe said.
In several of her judgments and rulings, she has always taken a bold stand against abuse of power by the regime and its agents regardless of being brutalized, intimidated, and sabotaged,
"We regard Justice Kisakye's bravery as the highest form of patriotism. Her protest action within court premises fuel the hope and courage of Ugandans to stand for the truth regardless of the consequences," Dr. Mirembe says.
As a former attorney of FIDA, an organization of women lawyers, Kisakye challenged existing laws saying most lacked efficacy in dealing with the "endless" tribulations of women. As a member of the Supreme Court of Uganda, Justice Esther ruled that the practice of refunding a bride price on the dissolution of a customary marriage is unconstitutional and should be banned.
"We implore all Ugandans, especially those in the judiciary, armed forces, and other public offices to emulate Justice Kisakye and stand with the oppressed. History will absolve you, and you have our support as the people of Uganda," Dr. Mirembe said.
THey are now mobilising funds to raise a statue a the High court to honour Kisakye.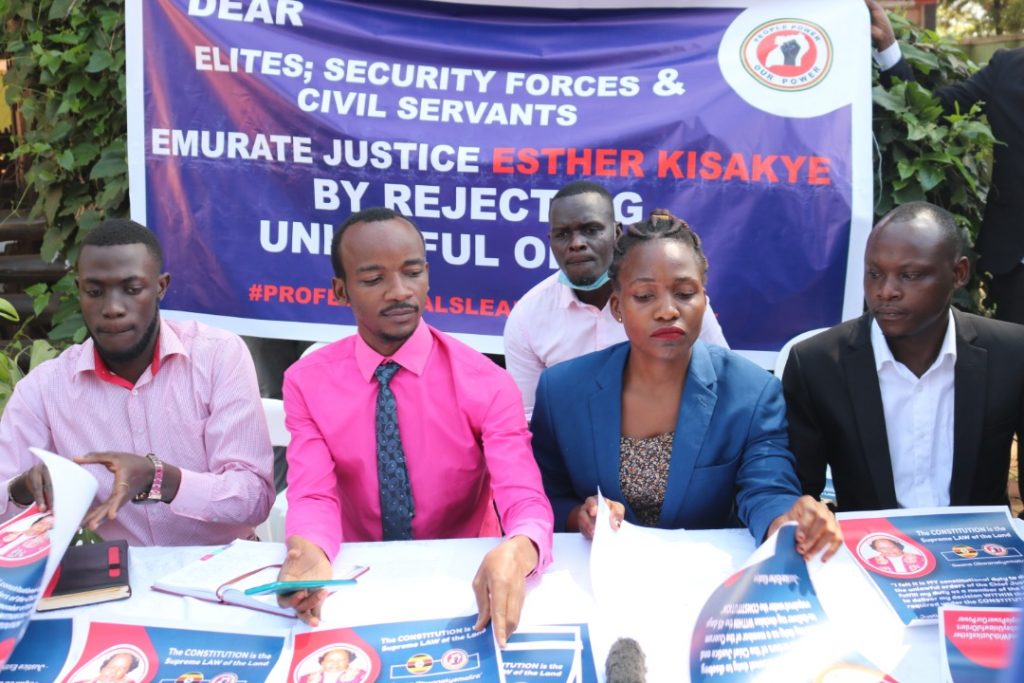 Do you want to share a story, comment or opinion regarding this story or others, Email us at newsdayuganda@gmail.com Tel/WhatsApp........0726054858