By Stephen Lwetutte
London. Hundreds of the National Unity Party (NUP) -UK Chapter are demonstrating outside Uganda's embassy in London against the President Yoweri Museveni's National Resistance Movement (NRM) regime.
Mr. Museveni is due to swear in for the sixth term next week on Wednesday May 12. He has reportedly invited dozens of Presidents and that more than ten have confirmed attendance although the number known to have congratulated him is less than that.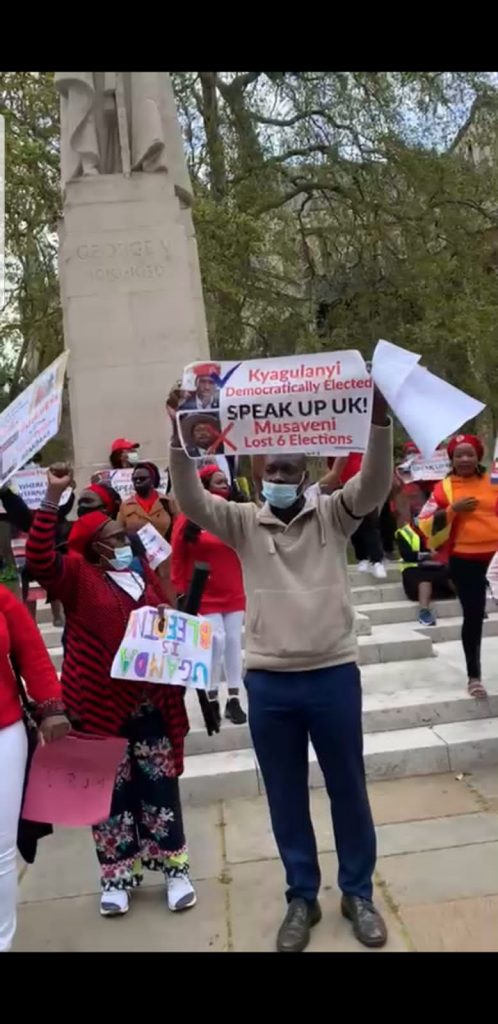 Demonstrators are holding placards demanding the immediate release of all political prisoners in Uganda, a stop to abductions and killings of NUP supporters. Other Placards read "Supporting Bobi Wine is not a crime, we want our stolen victory and stop funding Museveni".
"The international community must reject Museveni and his government because he is illegitimate and he knows that," one demonstrator shouted.
Most demonstrators are clad in red and are gathering near Uganda's High Commission, in the British Capital city, of London at Trafalgar Square. This is a politically sensitive and significant part of London, with dozens of other world embassies nearby and major British government offices, including the official No 10 of the British Prime Minister. The Buckingham Palace, the Queen's official residence and the UK parliament are within this vicinity.
The demo overseen by the British Police started at mid- Day (BST) and would end at 6pm.
The demonstrators are singing pro NUP leader Kyagulanyi songs and shouting anti NRM government slogans, demanding an end to brutality, abductions, corruption and a hand over of power to Hon Kyagulanyi who they claim to be the legitimate and lawful winner of the January 2021 presidential elections.
In Uganda, Bobi Wine told a gathering at his home on Friday that "although Mr. Museveni is swearing in himself, I may be Uganda's President at the end of the coming five years."
His Vice President Mathias Mpuuga rallied NUP supporters to ensure the regime of "thieves is ousted".
Do you want to share a story, comment or opinion regarding this story or others, Email us at newsdayuganda@gmail.com Tel/WhatsApp........0726054858