WAKISO-UGANDA/NEWSDAY: The latest decision by Buganda Land Board (BLB) to lease a community playground in Kasanje Wakiso District has scalded the already controversial image of the institution placing it under more scrutiny.
The land in question is formerly part of Buganda Kingdom's administrative unit of Ssabaawaali- Ggomboloola (Subcounty) in Busiro- Wakiso.
In a land broker/agent style, BLB last week floated lease offers to individuals after grading and subdividing a large chunk of Ggomboloola land into smaller plots that had been recently used for community good. People on ground said that the play field has not been graded after heightening resistance from the residents.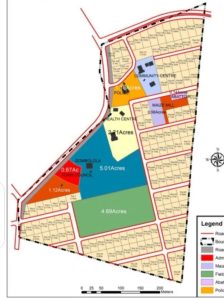 However the other subdivided plots measuring between 12 and 25 decimals is said to be leased at a price of Shs.15 and 25 million.
BLB in a statement quoted by online media outlets and attributed to no one, claimed the decision to lease the Kasanje public facility is an implementation of Kabaka's directive to redevelop land.
A large section of the public has in the past spotlighted some staff of BLB for using the cover of the Kabaka for personal gains and antagonism of the Kingdom image.
"While touring the county of Bugerere in 2014, the Kabaka of Buganda called for the development, re-development and modernization of all Ssaza and Gombolola land. Therefore, the Kabaka argued that 'Kingdom land cannot be left undeveloped'', the statement that is not attributed to any official reads.
The statement says the Kasanje project went through all the necessary approval processes, is going to be used as a model of development for pre-urban areas.
"Land at Kasanje is going to be developed with keen interest in environmental conservation. There is going to be a forest reserve with indigenous trees, a youth center, a Police station, a modern community abattoir, a vocational center, among others," the statement reads.
BLB's decision has been challenged and criticized by residents who claim that the institution has deprived them of a playground which has helped in recreation and sport for neighboring schools and villages.
Mr. Galiwango Kigumbo James Wilson has resigned his post as a spokesperson for Kasanje-Ssabawaali-Buwaya- Busiro ggomboloola saying he cannot stand the shame painted "on us all by individuals in BLB."
Mr. Galiwangp said the field had played host for at least 60 schools and at least 20 villages where athletetics and football tournaments were being held.
"And all other major events including the 2018 national heroes day celebrations, weddings were all being held here," Galiwango said.
The Ssabawaali (Kingdom officials heading Kasanje), Mr. Andrew Benon Kibuuka when asked about the on-goings referred Newsday to BLB.
"They have all the information. They are the ones managing this land. Thank you," Kibuuka said via telephone.
BLB said that it had provided the community with another piece of land which will be used as the playground to replace the one that has been subdivided into commercial plots. A map showing subdivisions is currently being marketed.
However, BLB has been unreliable on this. When it leased a play field for Kigo Prisons Primary School along the Munyonyo Spur, they claimed to have given the school land for a new field.
However, the deputy Mayor of Makindye Ssabagabo, Mr. Kanala Moses which supervises Kigo Prisons Primary School said there is no land on ground.
"They gave us the land in word. No one can show you where the land is. The school has no field," Mr. Kanala said.
When people previously working at Mulungu landing site were displaced by BLB and KCCA, they were promised an alternative land at Busabala but this land was never to be sen.
Ms Nakamya Assumpta of Entebbe forum advised against dividing Kingdom land into small plots that may create slums. She said large chunks of land can help attract sizeable investments as factories, schools, airports, landing sites, hospitals, parks, sports fields among others.
"Instead of making Buganda a slam kingdom we need to do better than that.  Buganda has to be the pilot where all kingdoms in Uganda learn from. Buganda needs more land because she has the capacity of getting investors," Nakamya said.
Leasing land illegally
BLB is working under criticism for leasing land that belongs to the Baganda. Critics say their mandate is limited to the 350 square miles of land owned by the Kabaka.
The Junior Lans Minister Sam Mayanja says that the current Buganda Land Board is not a successor in title to the Buganda Land Board of the 1962 Constitution.
" It is not a statutory body and has no mandate to administer any public land by whatever name called.  Its legal status going by its instrument of registration is that of a private limited liability company with one (1) shareholder," Mayanja says.
Adding; "It has no accountability to the public and no queries can be raised by a public body on how the company is run.  It cannot legally claim ownership of public property by virtue of the Traditional Rulers (Restitution of Assets and Properties) Act 1993. That Act having been enacted before the coming into force of the 1995 Constitution, must be construed with such modifications, adaptations, qualifications and exceptions which may be necessary to bring it into conformity with the constitution."
Do you want to share a story, comment or opinion regarding this story or others, Email us at newsdayuganda@gmail.com Tel/WhatsApp........0726054858