WAKISO-UGANDA/ NEWSDAY: Property developer John Kalemba was Tuesday arrested by Wakiso Police after a land row between him and a family.
Mr.Kalemba, the owner of Das Berliners Hotel at Bulenga is accused of conniving with a widow Ruth Nakityo Kibalama and others to take land, part of a family estate illegally. The land in question is located on block 364 plotted differently.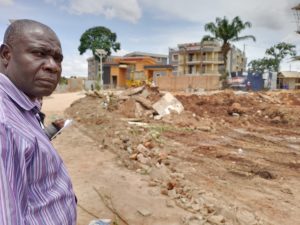 Mr. Kalemba denies wrongdoing and says his transactions were valid. An agreement dated March 15 between Kalemba and the widow Suzan Nakalyango Kibalama shiowed the transaction was worth Shs 800m with Shs500m paid instantly and remainder to be paid on May 3 2023.
He is being accused by the administrators of the family of Mr. Eliazari Kibalama including Fred Mugwanya, Robina Lubega, David Ssentongo, and Suzan Kizza Mukasa.
They claim they sold him part of their land in April last year but Kalemba allegedly through fraudulent actions took a huge chunk more than the measurements earlier sold to him.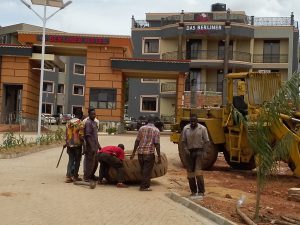 "He has flouted every part of our agreement. Apart from refusing to pay up our balance before relocating our graveyard, he raised perimeters along land that was never indicated in the measurements we sold to him," Mugwanya said.
He added that as if the above wasn't bad enough, Kalemba connived with the widow and took over the remaining part of the land which had a house and he demolished it on Tuesday.
"And on his orders we understand he ordered to arrest people including journalists who were covering the demolition," Mugwanya said.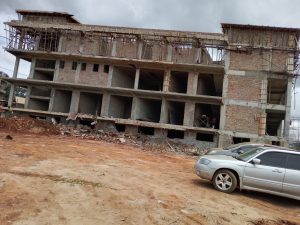 Police visited the scene of crime on Monday and took record.
The family opened up a case of malicious damage and criminal trespass against the developer at Wakiso Police station. On Tuesday, Kalemba was summoned and held briefly by police before he made a statement. He was released later in the evening.
A land sales agreement seen by Newsday, showed that Kalemba bought the remaining piece of land from the widow Ruth Nakityo Kibalama and her children. Nakityo was one of the administrators but according to Mugwanya, she opted out.
"But even if she were still part of the administrators, she could not sell a family property without the consent of all of us," Mugwanya said.
Mr. Kalemba bought the land at Shs.800m paying Shs.300m at hand and the balance after transfer of the title into his name. The agreement is dated March 18, 2023. It was drafted by counsel Nassaza Phiona.
Another agreement seen by Newsday indicate that on April 28, 2022 Mr. Kalemba entered an agreement with Ruth Nakityo Kibalama, Suzan Kibalama , Fred Mugwanya, David Ssentongo and Robina Lubega  who sold the first part of their land at Shs.800m.
Currently Kalemba is expanding area for his De Berliner Hotel and a shopping Mall he is constructing.
Do you want to share a story, comment or opinion regarding this story or others, Email us at newsdayuganda@gmail.com Tel/WhatsApp........0726054858