KAMPALA_UGANDA/NEWSDAY: The jilted wife of cosmetics and property mogul, Ms Rose Nantumehas leaked chilling secrets regarding the wealth accumulation of his husband, Ssalongo Kasawuli Mukasa aka Samona.
Ms. Nantume says Mr. Kasawuli was a pauper who had no place among the well-to-do, " save for me he is now dropping".
"At 18 years, way back in 1988 I met with him (Kasawuli) in Shauriyako where we started love. I introduced him to my parents to whom he carried small gift packages. Life went on and we had children," Ms. Nantume said.
She claims her husband is expelling her from a multi million mansion in Sigi, Mawokota-Mpigi. Newsday is still unable to verify this claim as for the fact Nantume is still resident in the house and we are still unable to get a comment from Mr. Kasawuli, who is said to be on a business trip in China.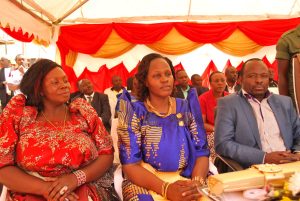 It is alleged that Nantume had two children outside the wedlock and that the first and last born are not biological to Kasawuli.
Ms Nantume says they lived in abject poverty with Mr. Kasawuli sometimes "putting on my skirt when we had washed clothes."
"It wasn't easy. He used to ride a small bicycle as we operated a small shop.  We prepared chips until such a time when I started to make herbal jelly.  We started from a small shop.
"When we hooked he didn't even have a single agreement of land. We worked and accumulated wealth including building (the vast) Nateete shopping centre," Nantume says adding that her husband "is very difficult".
Who is Samona
Mr. Kasawuli was born in 1964 to peasant parents in Kibanga in Mawokota- Mpigi.
"I ended school time in the first ten years of my life due to lack of school fees. For the first part in my life, I was a porter and a hired farmer in my home village. These odd jobs enabled me to earn money for transport and I migrated to Kampala city at the beginning of the 1980s, which had been my dreamland," Kasawuli said in his company profile published in 2014.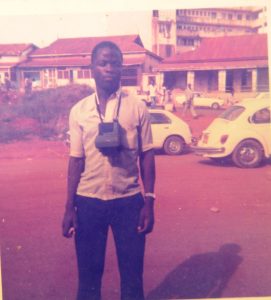 On arrival in Kampala, he mastered the art of trade and haggling on the streets.
"From vending food, fetching water, photography, hawking and eventually setting up a retail
shop at Nateete, I did not discriminate work for as long as I would get paid. My vision was
becoming the person, I am today," Kasawuli says of his life.
Kasawuli believes that achieving a better life goes with a lot of sacrifice, patience, discipline, integrity and vision.
"That helped me to make savings.  The youth today ought to emulate that. I was able to set up a shop at Nateete which I named Sanyu Moving Shop at Nateete shortened as SAMONA," he says.
Starting the cosmetics business.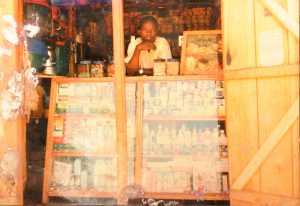 Kasawuli says; In 1993 my children were infected with scabies. I applied all sorts of local and imported creams to clear their skin but
the results were negative. My Auntie who was visiting me advised that I get some herbs from my grandfather in the village. I first hesitated and tried out a few more skin care products but they too failed.
Finally, I decided to follow my Auntie's advice. I went and collected the herbs from my grandfather's home which I mixed into four kilograms of Vaseline that I purchased from Katimba near the current Qualicell bus Park. We smeared the children for three weeks and the skin cleared.
I decided to continue mixing and giving the jelly as 'akasendabaguzi' (bonus) to my retail shop customers with directions on how to use. But they frequently asked for it. I realised it was an effective skin irritation remedy.
I actually realized herbal vaseline could be a serious business opportunity. I decided to buy 40 Kgs of Vaseline which I mixed with herbals. I would pack the jelly in tins and bottles which I used to pick from Kisekka market then sell within Kampala.
He however nearly missed out on the upcountry market as dealers there refused to sell his product because it had a dark color.
"I brushed aside the criticism and remained focused on production. Working with the family, we embarked on improving the packaging and advertising.
In 1996, we massively invested in awareness and packaging hoping that sales would go up. We had used our savings and loans worth Shs275 million. However, things did not work out in the period we had anticipated, the market did not pick up. Most of the supplied stock had got stuck in the retail shops.
With lost hope, I secured a Japanese work permit to go for kyeyo at the beginning of 1997. But as I was looking around for money to buy an air ticket, a retailer from Mbarara where I had supplied, called me to pick my money and make a new delivery.
I packed the jelly in my corona saloon car but I sold out the goods before I reached to Mbarara. This was the turning point. I started to receive calls from different places such as Kabale, Jinja, Arua and Mbarara to make deliveries. I immediately, gave up plans of going to kyeyo in Japan. By 1998 I had managed to buy a delivery van preceded
by investments in specialized production equipment from India at a cost of US$550 and others from China at US$250,000 in 2002.
Today, Samona is one of the richest people in real estate and cosmetics in the country.
Do you want to share a story, comment or opinion regarding this story or others, Email us at newsdayuganda@gmail.com Tel/WhatsApp........0726054858