KAMPALA-UGANDA/NEWSDAY: The absence of vocal deputy National Vice Chairperson of the MK Movement, Frank Gashumba in Wednesday's State House meeting has lifted a lid in the seemingly boiling infighting among the movement in its infancy.
Gen MK led a seven member team of his MK movement's Central Executive committee (CEC) to State House Entebe where they presented to the President Yoweri Museveni a document and held talks. Details from their talks are yet to emerge.
In the meeting with the President, all other National Vice chairpersons, because they are automatically part of the MK Central Executive Committee (CEC), were present in the State House meeting apart from Frank Gashumba, who was appointed as Buganda National Vice Chairperson on April 1.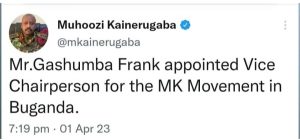 On March 30, Gen. Muhoozi appointed Lilian Aber as the National Vice Chairperson in charge of Northern Uganda and he immediately declared him a member of the Central Executive Committee. On the same day, MK announced members of forming his CEC. They include: David Kabanda, Balaam Barugahare, Lilian Aber, Micheal Katungi, Andrew Mwenda and the General himself as the Chairperson.
On April 1, Muhoozi appointed Gashumba as the national Vice chairperson of the Buganda, a position that placed him on the same equation with Aber.
On the national political scene, Mr. Gashumba is at the level of his counterparts who share the same positions.
His role is equivalent to other Regional Vice chairpersons as Mathias Mpuuga of the National unity Platform, Godfrey Kiwanda of the National Resistance Movement or Erias Lukwago of the Forum for Democratic Change.
Gashumba's absence at Wednesday's State House meeting, according to sources has raised questions yet in public he is seen as close to Gen Muhoozi. During a rally at Kabale a fortnight ago, Gen MK introduced all his CEC members including Gashumba who is Deputy National Vice Chairperson Buganda.
Gashumba and controversial former Presidential spokesperson Tamale Mirundi are the two known major advocates of Muhoozi in Buganda.
A source told Newsday that to confuse Muhoozi in order for him to sideline Gashumba, its is because the outspoken chief executive of Ssisimuka Uganda has previously dedicated his life to defending opposition stalwarts including former FDC leader, Kiiza Besigye.
But he has recently become a vocal suporter Gen. MK.
In a rally in Kabale za fortnight ago, Gashumba continued with his support to Muhoozi declaring "we will see you, swear as President of Uganda at Kololo. "You are a military general but the crowd before you is a civilian army who will fight fight on until you become president."
Gen. Muhoozi has already declared his intentions to inherit his aging father who has ruled this country since january 26, 1986. Muhoozi says his decision for to take over from his father is something he desires to do as "a gift to my mother."
Gen Muhoozi  has often said he wants to be President of Uganda partly as a gift to his mother said in a tweet on Wednesday night his age mates would soon take a stand to get rid of the old guard.
His father President Museveni is clocking 80 years and has been in power since 1986.
"The Prime Minister of UK  (Rishi Shunak) is 42 years old, the Prime Minister of Finland is 37 years. Some of us are hitting 50 years old. We are tired of waiting forever. We will take a stand" Muhoozi tweeted mid March.
He has since held very successful and very massive countrywide rallies in the areas of Kapchorwa, Kitgum and Kabale.
Do you want to share a story, comment or opinion regarding this story or others, Email us at newsdayuganda@gmail.com Tel/WhatsApp........0726054858